Concert Review: Maroon 5 sells out Sprint Center, Westboro Baptist Church protests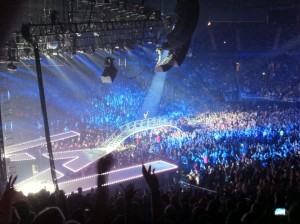 Despite symptoms of laryngitis, Maroon 5's lead singer Adam Levine performed to fans' expectations at the Sprint Center last Wednesday night.  Headlining for bands Owl City and Neon Trees, Maroon 5 landed in Kansas City midway through its Overexposed tour.
The Sprint Center seating arrangements put anyone in Section 109 at a disadvantage, having to view from behind the stage and limiting the view of each band's instrumentalists.
However, Adam Levine and the lead singer of Neon Trees, Tyler Glenn, did an appreciated job of utilizing all sides of the stage, which was shaped like a giant "M."
There is nothing that puts an emphasis on your age than being surrounded by a swarm of teenage girls, but Neon Trees was on the mark performing a cover of "Don't You Want Me" originated by The Human League in the '80s.
Maroon 5 opened with its popular hit "Payphone" and continued with a pleasing mix of newer songs from the "Overexposed" album and older favorites.  The ability to make the transition to the sound of the new album from the mellower tracks of the past was admirable.
Older songs performed included "Won't Go Home Without You," "Sunday Morning," and a throwback to 2002 with "Harder to Breathe."
With each song change, the giant "M" stage changed colors to correlate with the mood of the song, ranging from a flashing bright blue to a somber intense red.
Levine also took an instrumental break to pick up a video camera that projected images of the audience on a Jumbotron screen above the stage, yelling "Memories" as he panned across the crowd.
After an hour-long set of non-stop music, Maroon 5 finally left the stage with anticipation from the audience for an encore.  Sure enough, a giant steel bridge was lowered from the rafters connecting the main stage with a square platform in the middle of the pit.
Levine ran across the bridge, delivering an encore of "Stereo Hearts," a Gym Class Heroes song that features Levine.
Levine rapped the verses typically performed by Gym Class Heroes lead singer Travis McCoy with surprising articulation.
The band followed up with a heartfelt performance of what Levine says is his favorite song Maroon 5 has ever created, "Daylight."
Levine continued this "lovefest" sentiment by bringing the band's guitarist James Valentine across the bridge, explaining that some form of this band has been together for more than 20 years, leading into an acoustic version of "She Will be Loved."
Levine apologized for his lack of commentary throughout the show, stating that he wanted to save his voice for singing since he was struggling with his vocal health.
"We wrote this song about 20 years ago before we started getting f***ing old," Levine said. "I don't care if we're in a full body cast or a wheelchair, we're gonna be here."
Levine broke into a monologue mid-song, acknowledging some unwelcome guests that were posted outside of the Sprint Center—members of the Westboro Baptist Church.
"My first instinct was to get mad, but I realized they're such a small group," Levine said. "It's such an ignorant thing that such a small group of people could be such pieces of sh*t."
He advised the audience to simply laugh at the protesters as they left the show and never think about them again.
A perfectly devised finale turned Levine into a pseudo-choir director.  Standing halfway across the bridge, he divided the entire stadium into two groups.
Continuing "She Will Be Loved", Levine instructed one half to repeat "I don't mind spending everyday/ Out on your corner in the pouring rain" and the other half to repeat "She will be loved/ She will be loved."
The result was a chorus of voices singing the two verses together as Levine conducted the group.