musica nova: Modern composing offers maximum results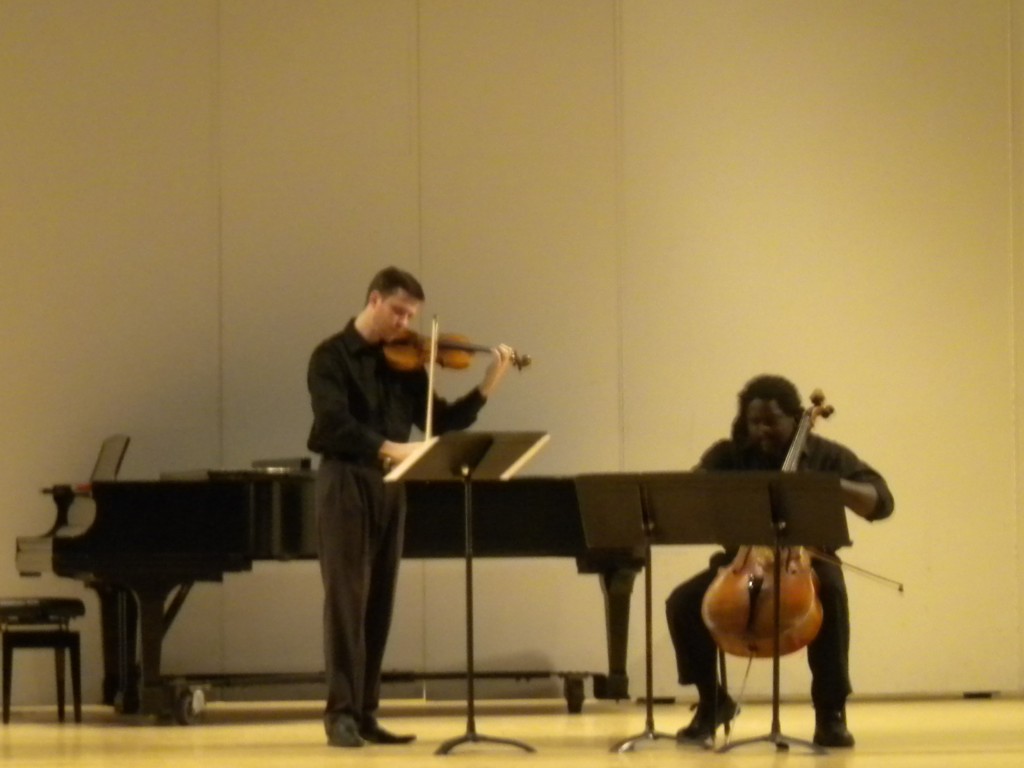 It's not hard to be intimidated by the immense space of the White Recital Hall in the James P. Olsen Performing Arts Center. The great swooping modern design of the walls, coupled with the expansive ceiling, makes it clear this is a place for performance.
But what kind of performance?
One might imagine enormous orchestras and ensembles filling a space like this with music, but as the UMKC Conservatory's Chamber Music Composition Competition last Wednesday evening proved, the greatness of a performance has little to do with the number of performers.
The performance was split in two parts, the first being a competition with a collection of pieces composed by UMKC students, and the second a selection of works by visiting guest composer Eric Moe.
What made the pieces included in the competition interesting was their focus on small ensembles, the largest ones only consisting of three people. The mood and overall feeling these ensembles were able to create was incredible.
A piece by Cody Kauhl, titled "Crimson, A River Runs," illustrated this perfectly. The work was inspired by an incident that occurred in early September of last year in Chongqing, China, when citizens noticed the nearby Yangtze River had suddenly become red under still unknown circumstances.
The piece incorporates sound so well, almost acting as a soundtrack for the very experience of witnessing such an event.
It begins with an abrupt sting of all the instruments, and then follows a low and suspenseful dirge, using a bass clarinet to illustrate the mysterious hue slithering its way though the waters to the shore. Much like a spectator, the listener can do little but simply observe it.
As the war-like beat of the congas comes, it's clear fear has invaded the sound scape like a giant snake that has wrapped itself around the audience, ever tightening its hold.
It is only with the inclusion of the ocean drum, a hollow drum with beads in it that when moved gently by the player, imitates the sound of the ocean, that the audience is allowed a break.  It is with this sound of the tides that listeners now realize the red water has finally reached the beach. It is upon them.
It's unbelievable the amount of meticulous detail that was taken into the execution of these works.
During the intermission, the audience was asked to vote on which of the performances they enjoyed the most and the results turned up a three-way tie for second place along with a first place winner, student Chin Ting Chan.
Classical music can easily seem an antiquated genre that is dominated by academics that have little room for modernism and contemporary expression.
However, these  composers showed the wide breadth of potential, both culturally and stylistically, which exists in the genre.