Men's Basketball: 'Roos beat Indianapolis Jaguars 48-44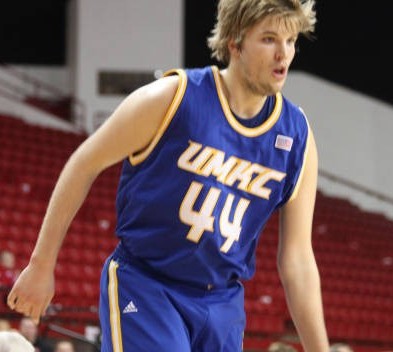 UMKC ended its regular season with a 48-44 victory against Indianapolis last Saturday on the road.
The 'Roos stand 8-23 for the season and 5-11 in the Summit League, where they are the No. 6 seed for the conference tournament this Sunday in Sioux Falls, S.D., and will face No. 3-seed North Dakota State Bison in a first-round game.
UMKC fell twice against The Bison in the regular season: 63-44 on Jan. 5 in Kansas City, and 71-34 on Jan. 31 in North Dakota.
Last Saturday was the first time in eight years that the 'Roos had pulled off a sweep of the Jaguars, who have only one conference win this season.
For the first time in school history UMKC had more road wins—four— than home victories—2.
Thomas Staton helped lead the 'Roos to victory on Saturday, breaking a 40-40 tie with five consecutive points in 40 seconds, giving the 'Roos a 45-40 lead with 2:41 remaining.
The Jaguars then scored two consecutive buckets before Mason Wedel hit a free throw to extend the lead 46-44.
With nine seconds left, Kirk Korver got a rebound, was fouled and sealed the victory by hitting both free throws.
Forward Trinity Hall said he's confident that the 'Roos can shake off the losing season and get in the right frame of mind for the conference tournament.
"We always try to stay positive," Hall said. . "We are not getting down about it, we are a good team and we know what we are capable of."
Even though The Bison beat the 'Roos twice this season, "we are focusing on what we do not what they do," Hall said. "We have a positive mentality and we will do our best."