Sustainability Corner: Beat the winter blues by biking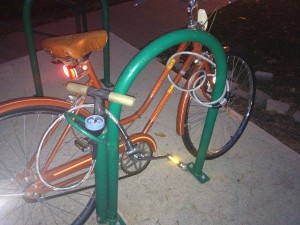 March and its warm spring days are just around the corner.
The snow on the ground shouldn't inhibit you from riding your bike.
Instead, it should remind you that spring is coming soon and it is time for you to get your bike out of the dust. There are many reasons to ride your bike all around the year.
Of course, you warm up your body in the cold and shed winter weight gain.
Secondly, you always have free V.I.P. parking on campus. There are many bike racks on campus, even in the quad in front of Haag Hall.
Finally, riding your bike is great for the environment, your health and lets us all have a breath of fresh air.
Get an early start to this season with these tips on how to survive bike rides in the winter months and tune up your bike for the spring.
Follow the ABCD's of bike tuning before you start:
A. Air: Use a bike air pump to pump air into the tires until they are firm. There are bike pumps on campus outside of the Student Success Center and Cherry Hall.
B. Brakes: Make sure you have good working brakes before you ride. A common test to see if brakes are safe is to ride at 10 mph and be able to stop within 50 feet from the braking point.
C. Chain: Make sure the chains of the bike are clear of debris and dirt. Also make sure the chains are lubricated.
D. Drivetrain: Gears and shifters make up the drivetrain. Take a short spin around the block to check if the bike shifts gears with ease.
If assistance is needed, "The Hub" in Cherry Hall offers information and services for basic bike needs.
It is also important to dress accordingly while riding in cold temperatures.
Riding fast speeds on your bike can invite cold harsh winds, so make sure to keep bare skin to a minimum.
Wear sunglasses and a thick scarf to protect your face, and wear gloves for the hands.
Be sure to cover your ears as well; hats are great, since most body heat is lost from the head.
Be sure to wear many layers, but not too many, to avoid overheating. Windproof jackets and moisture wicking fabrics work well for a comfortable ride. Also, remember to taper your pants and stick them into your boots or socks to avoid pant legs from getting stuck in the bike's chain.
Finally, obey traffic laws. Be aware of others and look out for icy and snowy spots ahead. If your bike is ready now, you won't have to miss a minute of beautiful spring bike riding weather later. Plus, you won't have to spend money on gas, you get in shape, and help the environment.