'Nazi Persecution of Homosexuals' comes to UMKC: Exhibit speaks to thousands of suspected gay men who were imprisoned, killed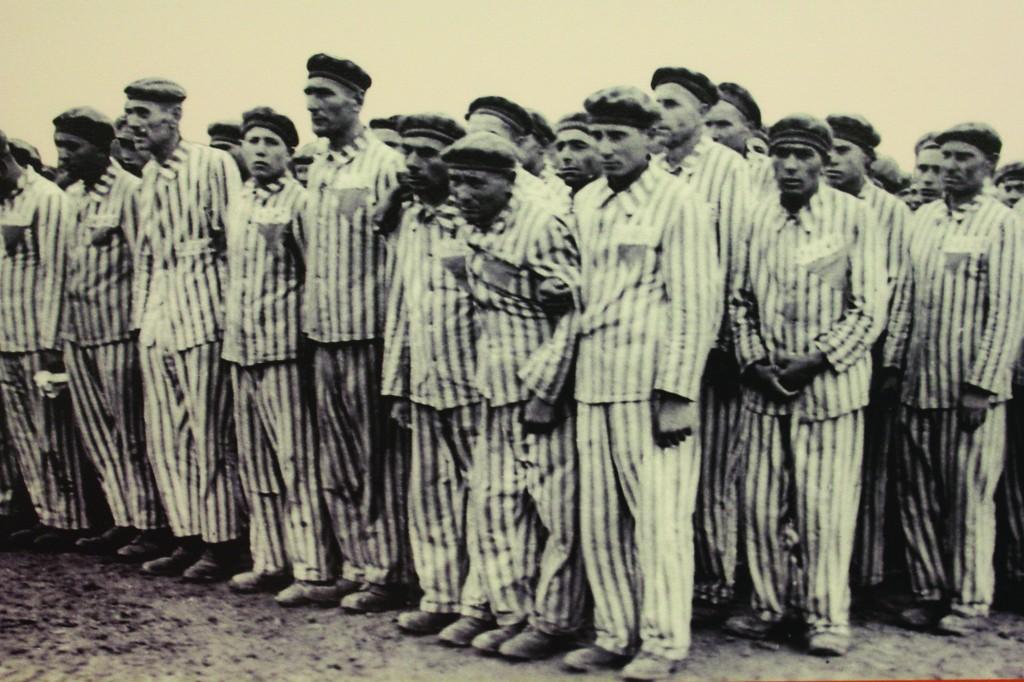 The rise of Germany's National Socialist government resulted in an estimated 11 million Holocaust victims.
The objective of the Nazi party was to eliminate those who did not fit the mold for a perfect Aryan race.
The United States Holocaust Museum strives to preserve the memory of the millions who suffered during this time of tragedy.  Among the representation of Jewish victims, the museum also aims to promote the stories of the underrepresented victims of the Holocaust.
UMKC is hosting a traveling exhibit from the United States Holocaust Memorial Museum titled "Nazi Persecution of Homosexuals, 1933-1945" through April 10 on the second floor of the Miller Nichols Library.
This exhibit reveals the detrimental treatment of males who were openly, or perceived to be, gay.
Homosexuality before the Nazi regime in Germany was already grounds for persecution.
Starting in 1871, a broadly interpreted criminal law called §175, deemed "unnatural indecency" between men to be "punishable by imprisonment" for up to two years.
This law only referred to acts between men—not women, with the mindset that females were still capable of carrying children regardless of sexual orientation.
The mixed interpretation of homosexuality spearheaded much debate at the turn of the 20th century. Same-sex "friendship leagues" were welcoming, but homosexuality was deemed a mental illness.
Members of the Nazi Party conceived an ideology they believed would strengthen the Aryan race through eugenics, the study of improving hereditary through selective breeding.
This brought on the eventual annihilation of not only Jews—but those with mental illnesses, those who carried diseases and homosexuals.
It was believed that homosexuals would contribute to a lowering population—and that ultimately this would weaken the Nazi regime.
As the Nazis took power in 1933, persecution practices emerged through what came to be called the New Order.
Homosexual gathering places and publications were shut down.
Interpretation and enforcement of sodomy laws were left to the Criminal Police and the Gestapo under the SS leader Heinrich Himmler.
From early 1937 to mid-1939, police forces arrested more than 78,000 suspected and openly gay men, many of whom received prison sentences.
Many were sent to concentration camps where they were subjected to forced labor with minimal breaks and rations.
Although homosexuals were not deemed fit to contribute to the population, they were still brought on as soldiers in World War II in September 1939.
They were often given suicide missions in the war, or other tasks that had a high mortality rate.
During time spent in concentration camps in the early 1940s, many homosexual men underwent medical "solutions" that included castration or the implementation of hormones, often ending in death due to surgical complications.
Badges were given to each person held in concentration camps as identifiers for the Gestapo.
The pink triangle was given to an estimated 5,000-to-15,000 male homosexual prisoners and has become a symbol within  the LGBT community in remembrance of those who suffered at the hands of the Nazi regime.
Those sporting the pink badge were often subject to harsher treatment than other prisoners, and were further shunned by fellow campus detainees.
Ultimately, about 100,000 men were arrested on violations of sodomy laws.  When the Allies defeated the Nazi regime in early 1945, concentration camps were liberated and many prisoners were freed.
Homosexuals didn't benefit from immediate freedom like the others. Many men were forced to complete their imprisonment.
In 1956, the Federal Republic of Germany declared that those detained in concentration camps based on sexual orientation were not eligible to receive any form of compensation whereas other detainees would receive compensation.
In 1969, Germany decriminalized homosexual relations between male adults.
However, it was not until the 40th anniversary of the end of World War II in 1985 when homosexuals murdered during the Nazi regime received any form of commemoration.
§175 was finally abolished in 1990, and in May 2002, German parliament pardoned all homosexuals previously convicted of criminal charges during the Nazi Era.
The special exhibition being hosted at UMKC is a project of the Gay and Lesbian Archives of Mid-America. It is being co-represented by the Division of Diversity Access and Equity and in conjunction with Heartland Men's Chorus' spring concert, Falling in Love Again, March 23-24 at the Folly Theatre.