food critic's corner: Chez Elle Creperie is a delightful Parisian experience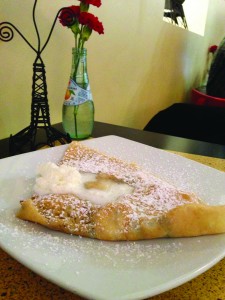 Despite living in the center of the Midwest, I am always surprised to see the great diversity of cuisine in Kansas City. Although Kansas City is known for its distinctive take on barbecue, the city is full of restaurants that highlight a wide range of tastes and cultures. One of my favorite little eateries I discovered is Chez Elle Creperie and Coffeehouse.
Located in the city's Westside at 1713 Summit St., Chez Elle is one of my go-to places to meet up with friends or to enjoy a tantalizing treat during the day.
Walking down the street you cannot help but notice the elegant edifice that houses the restaurant. Its iron railings, signature black awnings and vibrant flower beds mentally transport visitors to the French Quarter in New Orleans or a quaint neighborhood in Paris. As you walk inside the wrought iron doors, the whole Parisian cafe ambience becomes even more potent.
Upon entering, you are greeted with a very casual but tasteful interpretation of a bistro.  On one side, there is a cafe-like atmosphere with colorful pendant lamps illuminating the tables, from which you can watch your meal being prepared.
On the other side of the restaurant there is the option of sitting in a more lounge-type setting with informal seating arrangements of couches and comfortable chairs. During the summer time  the Parisian-style sidewalk patio seating becomes available.
Littered around the restaurant are original pieces of art work from local artists. Every time I go, I find a drawing or painting that I have never seen before, and it is fun to admire the pieces while you wait for your delectable dish.
As the name of the restaurant suggests, Chez Elle is almost exclusively devoted to one of France's most popular street foods: the crepe. Chez Elle offers about 30 different kinds of crepes, and they are not usual sweet crepes filled with fruits that are increasingly common in many restaurants.
Their crepes range from $8-to-$10, yet they are almost as large as a dinner plate, acting as two meals for some less hungry visitors. They are well worth the price. For those less fond of crepes, Chez Elle offers divine lobster bisque, a daily quiche special and fruit blintzes, the more desert-like sibling to crepes.
The sweet crepes have fillings as varied as coconut cream, in their "Tropicale" crepe, or lemon curd, in their "Citron" crepe.  Not to be outshone by the sweet crepes, Chez Elle's vast array of savory and breakfast crepes are just as appetizing and exotic. One of my savory crepe favorites is the "Petite Maison" crepe, which is a delicate crepe filled with melted Swiss cheese and perfectly sautéed mushrooms and spinach.
For a heartier meal, try their signature "Chez Elle" crepe filled with roasted chicken, mushrooms, sun dried tomatoes, baby spinach, mozzarella, pesto cheese sauce and topped with a marinara sauce.
Despite all these options I can't help but order what I feel is the quintessential crepe everyone thinks of, which is the "Paris." It is filled with gooey Nutella spread, fresh bananas and strawberries, contrasted with the slight crispness of the exterior of the crepe, topped with a healthy dollop of fresh whipped cream.
If you are in the neighborhood or in need of a pick-me-up, I highly recommend visiting Chez Elle. Treat yourself to a divine crepe and maybe a cappuccino or mimosa. I guarantee with one visit you will be hooked.