concert review: Twenty One Pilots brings original sound to the Bottleneck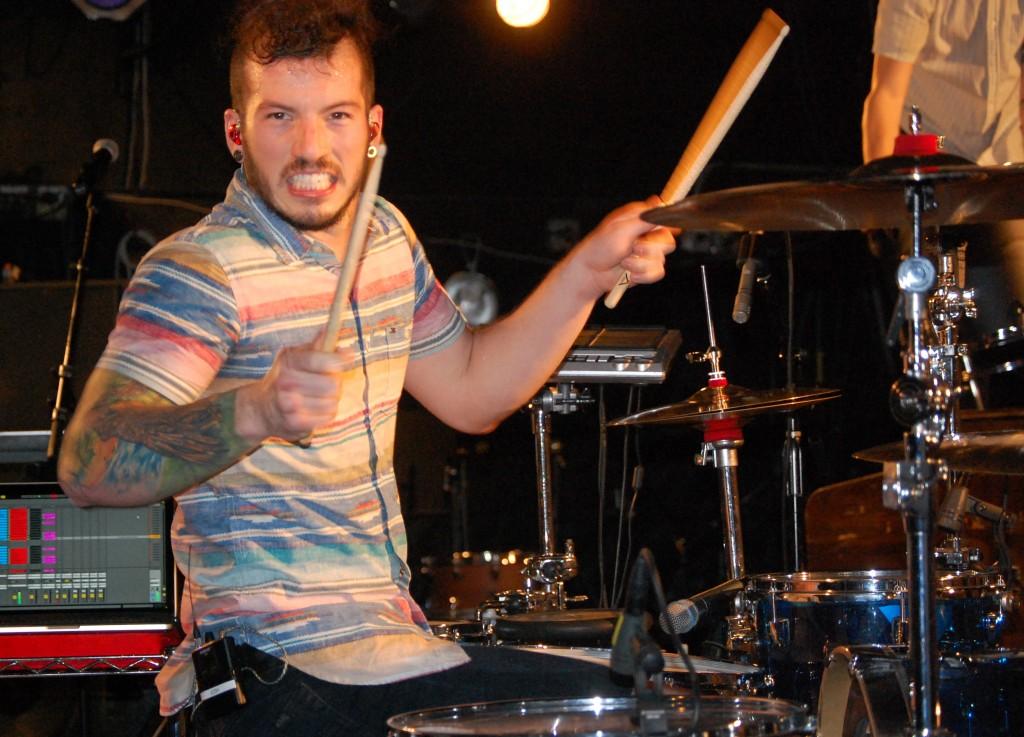 Twenty One Pilots, a band from Columbus, Ohio, played an exciting show at the Bottleneck in Lawrence on Valentine's Day, showcasing songs from its new album, "Vessel."
It is hard to classify Twenty One Pilot's music, which the band calls "Schizoid Pop."
Tyler Joseph and Josh Dun mixed their pop melodies and electronic beats with uplifting lyrics for the approximately 80 fans in attendance who sang along and got crazy with the band.  Tickets were only $13.
The opening band from Copenhagen, Denmark, "New Politics," played for about 40 minutes, starting at 8:30 p.m.
It was almost 9:30 p.m. when Twenty One Pilots walked onstage wearing skeleton hoodies, which caught everyone's attention, and opened with "Ode to Sleep ."
The scasual atmosphere made it easier for Joseph (piano and vocals) to interact with the crowd between every song. He made jokes and gave  inspirational words.
"If you want to create art, there are no rules. You have to do what you think is right, that is what we do and here we are giving you our music," Joseph said.
The set list included songs such as "Screen," "Holding On To You" and "House of Gold."
Joseph and Dun ended the night on the floor in the middle of a circle of viewers banging on the drums. They reiterated how much they really wanted all their fans to have a good time. It's rare to see groups get down on the floor and play.
After the concert, Dun gave U-News an interview:
Q:Tell us about your album, "Vessel."
A: The album, if you look at it there's a couple of old guys on the cover. Those are actually our grandfathers, on our father's side. A lot of people look at it and are like, "What is this, a jazz album?" People who play it are like, "Oh, we were not expecting this." So it's kind of something people had never really seen before. We try and do things that are different than what other people do.
Q: Onstage you guys mention that you came from nothing. Did you ever think you were going to get this far and travel around the world?
A:There are kind of two sides to it. There's this one side of us where we're like, really excited and we can't believe we're in Kansas right now and that there are people coming to the show. Then the other side is, we think that we're the best. We think that we'll be able to do this the rest of our lives. One night we were up until like 7 or 8 in the morning. We talked about we wanted to be the biggest band in the world and travel around and play and have people show up. There are two sides. You try to balance it.
Q: Has it been hard to be just a two-man band when performing live?
A: With less band members, there are less band members' girlfriends and less drama. With a computer playing our bass, it's always on time. It always plays the right notes, so that's really nice. And also, I guess selfishly as a drummer, I get to be showcased a little more. I'm just the beat for Tyler. The first time we ever played together, we were just two guys trying to have a competition to see who could show the most energy. But it is hard, because there's a lack of band members and you have to put on that much more of a show.