UMKC to host "Nazi Persecution of Homosexuals, 1933-1935" exhibition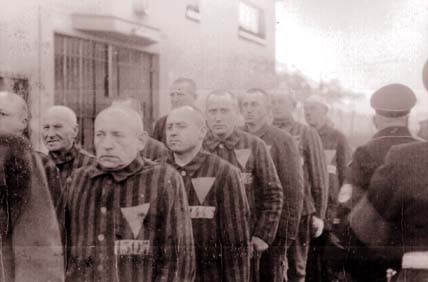 In 1933, Adolf Hitler was elected as the Reich Chancellor of Germany, putting him in a position of power.  Soon after his election, the first concentration camps were built.  Until his death in 1945, Hitler sought to eliminate all Communists, Social Democrats and Jews in order to establish a perfect "Aryan" race by persecuting and killing unwanted groups in concentration camps.
Lesser known  is the cruelty thousands of homosexual men endured during this period, since the Nazi German regime believed they were carriers of a "degeneracy" that was bad for society.  These homosexual men became victim to concentration camps, and thousands were killed just because they were gay.
UMKC is set to open "Nazi Persecution of Homosexuals, 1933-1935,"a traveling exhibit from the United States Holocaust Memorial Museum.  An opening reception for the exhibit is scheduled for this Wednesday from 5:30 to 7 p.m. in the Dean's Gallery in the Miller Nichols Library.  The free exhibit will be on display Feb. 16 –Apr. 10.
Students are encouraged to attend, as they will learn about a part of the Holocaust that was not often taught when they were young.  Although Jews make up the majority of the approximate 11 million individuals killed under Nazi control, homosexuals were among them.
The exhibit is co-presented by the Division of Diversity, Access and Equity in partnership with the Kansas City Museum.  It is also a project of GLAMA: the Gay and Lesbian Archive of Mid-America.
In conjunction, the Heartland Men's Chorus will present its spring concert, "Falling in Love Again," March 23-24 at the Folly Theater.