player profile: D.C. Okanta: Born to jump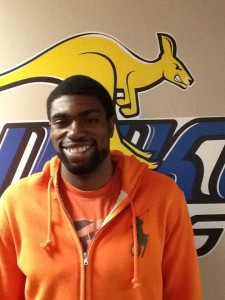 From Liberty, Mo., Donald Chukwuemeka Okonta was born with an amazing talent, which later on would take him to UMKC to make history with the Track and Field team.
Okonta's parents were born and raised in Nigeria, and both later graduated from UMKC, which is probably one of the reasons Okonta decided to follow his parents' steps.
The 6-foot-2-inch athlete said his father asked him to stay around for college. "The year I was supposed to be a freshman my dad left to Nigeria for a year and asked me to stay close to my family, and I ended up liking it" said Okonta.
His passion for jumping and running didn't develop until his high school years.
"I did not know I was good at this," admitted Okonta. "I went from jumping 38 feet in triple jump my freshman year to 50 feet".
This season at the Jayhawk Classic in Lawrence, KS, Okonta won the triple jump with a mark of 50-00.50 (15.25m), in what was the second best performance in team history.  "I am 25 cm to break the record in school history. There is always room for improvement," Okonta said.
Okonta's love for this event has grown since high school, and even though he participates in other events the triple jump is his favorite.
"I guess it is my favorite because I have been doing it the longest it is the closest to my heart," he said.
Jumps Head Coach, Benaud Shirley, got in contact with Okonta as soon as he came to UMKC.
"He (Shirley) saw that I had potential and he offered me a scholarship," Okonta recalled.
"Absolutely nothing" was Okonta's answer when he was questioned about what goes through his mind in the middle of  a jump.
"I do all my thinking before jumping," he said. "At the time I jump everything just has to flow."
As a fifth-year senior, Okonta's goal for the season is to go to Nationals in the indoor events
"There is no rain, no wind, no hot or cold, it's just you and your ability. That's the difference between both of them," he said when questioned about the difference between indoor and outdoor events.
Okonta wants to successfully graduate from Med School and live comfortably, but his athletic goal is to go professional. "I have the potential to jump really far, which is the matter of how much work I have put into it," he said. "I think it is possible to go professional. I want to."
If he has kids in the future, Okonta would like them to continue the family tradition of attending UMKC. "It would have to be up to them, but I would like it," he finished.