album review: Wiz Khalifa's 'O.N.I.F.C.' is generic, but fun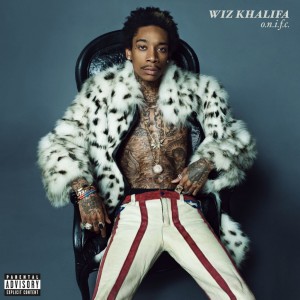 The Kush King was one of the top stars among DEV, Matisyahu and 3OH!3 that reigned over Kansas City's open air Dancefestopia music festival last summer. So, bumping dance beats are to be expected with Wiz Khalifa's second album, "O.N.I.F.C." (the clean version stands for One Night in First Class).
Wiz Khalifa is known for his rap influenced laid back songs mostly related to smoking up and living the high life. Wiz Khalifa opens this album with his stoner declarations and love for money, women, alcohol and drugs.
"Paperbond" repeats the chorus, "I wake up then I bake up, get my things and catch a plane." The first setback of the album is that the first line of lyrics opens up with a statement about making money and, of course, the presence of negatively referenced women. "O.N.I.F.C." may have stereotypical lyrics, but it does dabble in various rap, R&B and hip-hop influences that are popular today.
The album's biggest hit "Work Hard, Play Hard" offers another message that's not just about secondhand smoke. Wiz Khalifa juxtaposes his laid back words with encouraging ones as well. Fans comment on his website that his latest hit motivates them to give it their all and go for their dreams with lyrics like "Go for it, make sure you do it every day, it's what you gotta do. It's your job."
A breath of fresh air comes rolling in for the soft-hearted audience when "Got Everything," featuring Courtney Noelle, is heard. Romance and R&B work together in this song, reminiscent to Lil' Flip's "Sunshine," featuring singer Lea Sunshine from 2004. The happiness and bubbly attitude of this female dominated song diversifies the album.
"Fall Asleep" stands out on the album for its gentle repetition of female vocals in the background, repeating "Fall Asleep" with tranquil modern electronic sounds and beats that add a fresh sound to this stereotypical rap album. "Fall Asleep" sounds like Wiz Khalifa is trying to impersonate Kendrick Lamar's "The Recipe." This song is enjoyable until Wiz Khalifa starts rapping about drug use and materialism.
A downhill tumble begins with "Time," which sounds like a rip off of Drake. Wiz Khalifa shows his range of skills with similar speedy rapping like Drake, but the music is unoriginal. The background beat of the popular "HYFR" seemed to emerge through the song "Time."
All in all, "O.N.I.F.C." is easily appreciated. The presence of artists like The Weekend in "Remember You" and Juicy J in "The Plan," make this album a great listen. I recommend this if you are looking for a relaxing night, but also for a party playlist.