Record Bar concert raises money for French charter school
Last Friday at the Record Bar, over a hundred people showed up to listen to the tunes of four local bands in a fundraising music festival to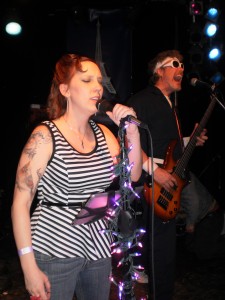 help public charter and French school, Académie  Lafayette.
The $25 tickets were no cheap excuse for people to attend this eclectic show, which was emcee'd by Cody Wyoming, who has seen success in a number of local projects.
Each band featured at least one parent of an Académie Lafayette student.
The evening started at 9:30 when The Quivers walked onstage and started playing their soulful eighties-like rock tunes. Lead vocalist Terra Peal had no trouble pumping up the people. "I Gots To Have It!" and "I Sleep Here" where some of the songs that made the crowd get up out of their seats and dance.
After a 40-minute performance, Wyoming took the microphone to start with the first raffle of the night, where iPods, restaurant gift cards, photo shoots and haircut certificates were given away.  Raffles continued between each band's set.
Next, The Sexy Accident made their arrival, performing songs from their newest album, "Ninja Ninja Fight Darth Vader." Power-Pop and enjoyable melodies were prominent in songs like "Monica" and "Sauvignon Blanc." Lead singers Jesse Kates and Camry Ivory's catchy lyrics made it impossible for the audience not to sing along.
The climax of the show came at around 11:30 p.m. when the pink freak-pop band of Miss Hillary and her drones jumped onstage. The Hillary Watts Riot performed their well-known hit, "Tube Top," and other songs such as "The Killer Kind" and "Boy in the Bubble" from their debut EP, A/S/L.
Last but not least, lead singer Gregg Todt lead his band, Federation of Horsepower, in a loud and hardcore rock-and-roll performance. The low vocals and heavy-hitting sounds that came out of the guitars, drums and bass made the audience move closer to the stage and let the music kindly deafen them with songs like "Legba" and "Fried Chicken for Breakfast."
At the end of the night, all proceeds went to the Académie Lafayette's General Fund, which pays for music and arts education, interns, extracurricular programs, sports and free tutoring.
For more information on the local bands that performed at "Vive The Rock," visit their websites and support them at their next show.