Graduate engineering student receives distinguished award for research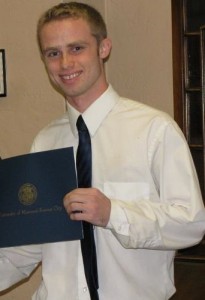 Darren Mullin, master student in mechanical engineering and Kansas City native, received the UMKC Distinguished Master's Thesis award of 2012 for his research, titled "Effects of Deceptive Behavior on Biomechanical Measures of Standing Posture."
"I was very grateful to receive the award," Mullin said. "I was definitely shocked to have been selected."
"Darren performed extraordinarily well," said Dr. Gregory King, associate professor of mechanical engineering and Mullin's advisor. "He was very thorough and thoughtful in all aspects of his work."
Within his award-winning thesis, Mullin focused on a new means of detecting deception, based on measures of fixed posture. In order to detect such deception, Mullin employed the use of force platforms to analyze center of pressure (COP) data. This approach may eventually become useful in airport screenings, credibility assessment and counter-terrorism.
"This method differs from commonly used techniques, such as the polygraph or brain activity analyzers, in that no invasive sensors need to be attached to the body," Mullin said.
"All that is required is that the person must be standing still on a force platform. This means that it may be possible to see if someone's lying without them even knowing they are being tested."
According to Mullin, the data took a long time to be analyzed, and in order for these procedures to be implemented, new data needs to be evaluated in real-time.
"I see this being very practical in an airport setting," said Mullin.
"An airport staff member could be asking questions about the contents of a passenger's luggage while they stand on a force platform. If analysis of their center of pressure data indicated that their response was deceptive then it could indicate that they should undergo further screening, for example, an extensive search of their luggage."
Mullin had a strong group of believers, including his advisor Dr. King, guiding him down the extensive path of experimentation, data analysis, interpretation, thesis preparation, and eventually onto an award-winning creation.
"I would have to say my advisor, Dr. Gregory King [had the most important role]," Mullin said.
"He helped me greatly at every step in the process and even suggested that I use this as a topic for my thesis."
"I worked with Darren the entire two years," Dr. King said. "Much of the time was spent on data analysis and interpretation."
According to Mullin, he believes that the results of his study may be used as a starting point for future studies.
"So far, no forms of lie detection are 100 percent accurate." Mullin said, "But I think that with continued refinement, models may be developed with predictive capabilities which could detect whether a response is truthful or deceptive."
Mullin's thesis states that his technique could be used without a person's known maximizing security performance.