AIDS memorial quilt comes to UMKC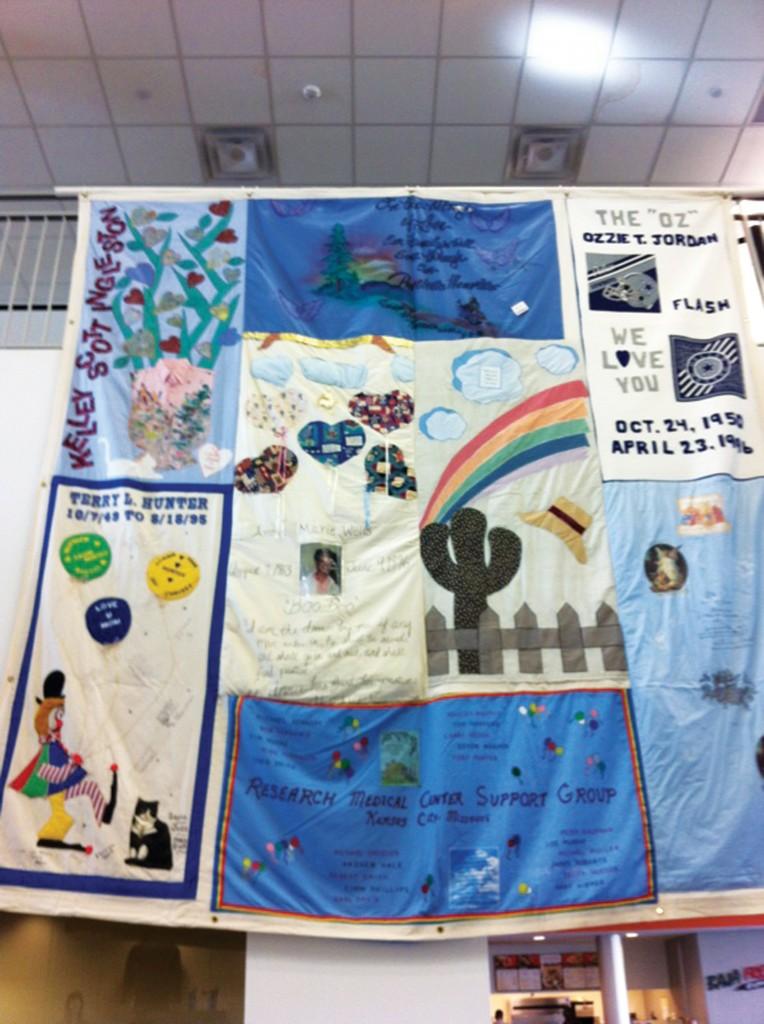 In recognition of World AIDS Day on Dec. 1, three panels from the Nobel Prize-nominated AIDS Memorial Quilt were hung from the third floor of the Student Union last week.
In total, its 48,000 panels are dedicated to more than 90,000 individuals whose lives have been lost to the AIDS pandemic.
Jonathan Ta-Pryor, LGBTQIA Programs and Services director, said the quilt is both a memorial and a reminder of the impact of HIV/AIDS. He said this includes a responsibility to practice safe sex and screen for the virus.
"We wanted to display the quilt leading up to World AIDS Day to give a visible reminder of how HIV/AIDS has impacted our global community," Ta-Pryor said.
Ta-Pryor said that although education has come a long way since the AIDS scare of the 1980s, misconceptions about the virus remain.
"[No one is] invincible," he said. "HIV is not a gay person's disease, it is a global issue that impacts all ages, races, sexual identities, and genders and we must be responsible and educated to keep it from continuing to spread."
The quilt was conceived in 1985 by Cleve Jones, a San Francisco gay rights activist and carried out by the NAMES Project foundation two years later.
While planning an annual candlelight vigil commemorating the 1978 assassinations of San Francisco mayor George Moscone and supervisor Harvey Milk, the first openly gay elected official in the U.S., Jones learned that more than 1,000 San Franciscans had been lost to AIDS.
Jones asked march participants to submit names of lost love ones on placards.
He organized for the placards to be taped to the walls of the San Francisco Federal building, resembling patchwork.
Work on the quilt began in 1987, and it has since become the largest community art project in the world with contributors from all 50 states and 28 other countries.
The accumulation of 3-by-6-foot panels has grown from 1,920—an area larger than a football field—during the National March on Washington for Lesbian and Gay Rights in 1987 to more than 48,000 in 2012.
However, the quilt has not been featured in its entirety since 1996, when the panels covered the entire National Mall in Washington D.C.
Ta-Pryor said that the three panels displayed at UMKC were delegated at random, although the NAMES Project foundation tends to deliver panels with some significance to the respective location.
"There was one quilt in particular that was shipped to us because of the close proximity to one of the quilt makers who lost their son," he said. "Although I did not have the opportunity to meet her, I was told an 88-year-old woman—who lost her son over 20 years ago and made one of the sections on display—drove from Wichita, Kansas to view the memorial she made in his honor."
Preservation of the quilt is a priority for the NAMES Foundation, receiving a "Save America's Treasures" Federal Grant for $100,000, the organization was able to bring in textile conservator Judith Eisenberg to preserve the integrity of the quilt.
STDs at UMKC
UMKC's Student Health and Wellness, located in the 4825 Troost Building, provides free, confidential testing for sexually-transmitted infections (STIs) and free condoms for UMKC students.
Testing is also offered periodically through the MindBody Connection, located in Student Success Center Room 112. Dates can be found on the UMKC Calendar, www.umkc.edu/calendar/.
HIV and AIDS
Short for human immunodeficiency virus, HIV interferes with the body's ability to effectively fight off viruses, bacteria and fungi. HIV can lead to AIDS, a chronic, life-threatening disease.
When first infected with HIV, one may have no symptoms at all. Some people develop a flu-like illness, usually two to six weeks after being infected.
The only way to know for certain if one has HIV is to take an HIV test. The disease has no cure, but those infected must take antiretroviral drugs to strengthen the immune system by reducing viral load and preventing HIV from developing into AIDS.
UMKC cases in 2011: N/A
Kansas City cases: 4,606
Chlamydia
Chlamydia is a bacterial infection of the genital tract that can produce infertility.
Symptoms can be mild, and if are noticeable, it is typically one to three weeks after exposure.
UMKC cases in 2011: 12
Jackson County Cases: 5,567
Missouri cases: 24,817
Gonorrhea
Gonorrhea is a bacterial infection of the genital tract and is a relatively common STD, with more than 700,000 infections each year, on average, according to the Centers for Disease Control and Prevention.
The first gonorrhea symptoms generally appear within two to 10 days after exposure.
UMKC cases in 2011: 0
Kansas City Cases: 2,345
Missouri cases: 8,014
Genital Herpes
Genital herpes is highly contagious and caused by a type of the herpes simplex virus (HSV).
Signs and symptoms may include small, red bumps, blisters (vesicles) or open sores (ulcers) in the pelvic region, anus or other nearby areas. Pain or itching around the genital area, buttocks and inner thighs is common.
UMKC cases in 2011: 47
Kansas City: N/A
Missouri: N/A
Genital Warts
Genital warts, caused by the human papillomavirus (HPV), are one of the most common types of STDs. The signs and symptoms of genital warts include: small, flesh-colored or gray swellings in your genital area; several warts close together that take on a cauliflower shape; itching or discomfort in your genital area; bleeding with intercourse.
UMKC cases in 2011: 71 Kansas City: N/A
Missouri: N/A
Syphilis
Syphilis is a bacterial infection. The disease affects the genitals, skin and mucous membranes, but it may also involve many other parts of one's body, including your brain and your heart.
UMKC cases in 2011: 0
Kansas City cases: 62
Missouri cases: 542
Sources: Centers for Disease Control and Prevention, UMKC Student Health and Wellness