News Briefs: Chancellor Morton recognized for civic leadership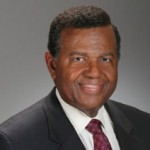 UMKC Chancellor Leo Morton was awarded the 2012 Henry W. Bloch Human Relations Award by the Jewish Community Relations Bureau/American Jewish Committee.
Morton received the award, which is given to those deemed exemplary leaders and inspirational community activists, at the organization's Human Relations Dinner on Nov. 18.
The award is named in honor of Henry W. Bloch, the retired H&R Bloch co-founder, local philanthropist and primary benefactor of the Henry W. Bloch School of Management at UMKC.
Morton, 67, is the first black chancellor of UMKC. He grew up in Birmingham, Ala., in the 1960s and drew inspiration from the Civil Rights movement.
Morton began his career at UMKC as interim chancellor in 2008 after a business career. He was previously the vice president and chief administrative officer of locally based Aquila Inc.
He received the award in recognition of his commitment to justice, service to the community, civic leadership and vision and devotion to the city.