Tappecue makes barbecue high-tech: Temperature-monitoring device shows promise at American Royal debut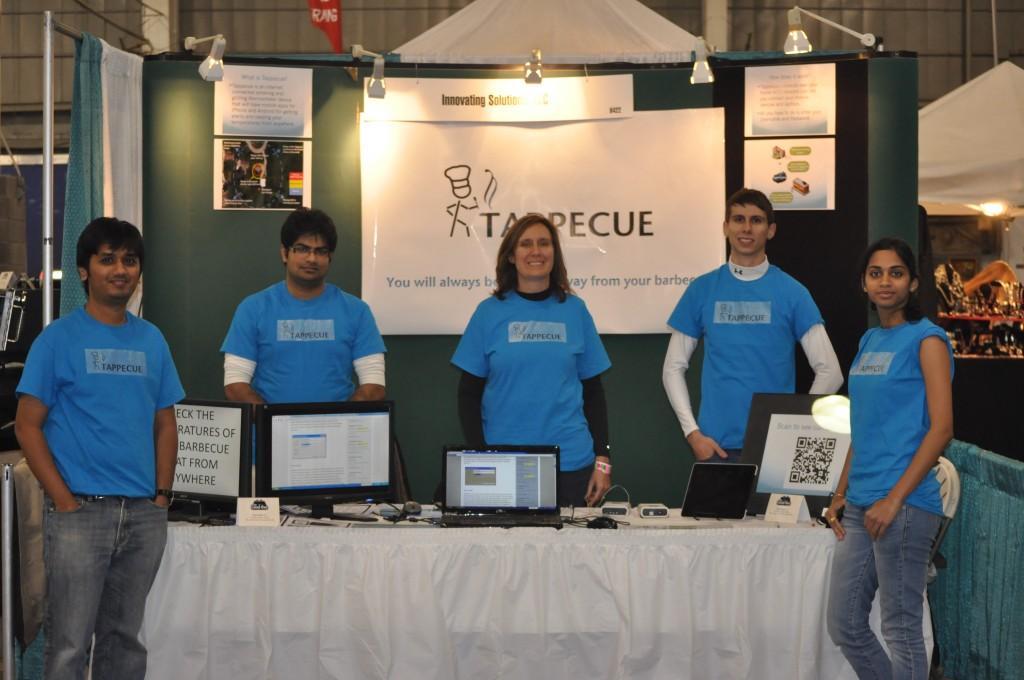 A new device that has its roots in UMKC's E-Scholars program pays homage to Kansas City's barbecue tradition.
"Tappecue," a barbecue temperature monitoring device, was unveiled at the "World Series Barbecue" event at the American Royal in October.
The device uses thermometer probes and a wireless connection to show the temperatures of a barbecue grill pit and meat on smart phones and other mobile devices.
It was developed by Innovating Solutions, a startup company Aniruddha Shukla created through the Bloch School's E-Scholars program.
The company team members, Gina Bourret, Aniruddha Shukla and Jacob Bourret, met last year through E-scholars. Shukla received his master's in electrical and computer engineering in 2011.Jacob Bourret is an undergraduate business student.
According to Gina Bourett, Tappecue was envisioned  when barbecue champion Chris Marks approached her through E-Scholars with the idea of designing a mobile app for the temperature monitoring .
Innovating Solutions accepted the challenge. Since the company mainly focuses on information technology and app development,  transitioning into research and development was not an easy process.
UMKC alumnus Rahul Paropkari helped Innovating Solutions create the initial design. It took a period of five weeks to think of the actual design and create a working model.
In order to market the product to Investors, the team used kickstarter.com, a website designed to share inventions with potential investors.
A five minute video showed live footage of a family cooking barbecue and playing a game of soccer. The device monitored the temperatures  so that the family wasn't forced to wait idly by the grill.
The video ends with the marketing slogan, "You will always be one tap away from your Barbecue."
Innovating Solutions' kickstarter.com project was received well. Shukla said that the 33 backers provided a decent initial flow of investment, but he fell short of the large target amount he had hoped to achieve.
With the funds raised through the marketing campaign, Innovating Solutions took Tappecue to the American Royal, which the team members said was the perfect opportunity to connect with barbecue experts throughout the industry. Although they said some potential consumers seemed interested in the product, commercial production has yet to begin.
In addition to promotion efforts, the team appeared in various radio talk shows and television outlets including 98.1 FM and KMBC Channel 9.
The team was also interviewed by a Michigan-based Barbeque radio service named "the grilling guys."
Like many inventions that set out with lofty goals, industry experts showed enthusiasm for the device, but suggested minor changes in order to enhance efficiency.
Overall, team members said they were pleased with the response.