Media expert shares advice on social networking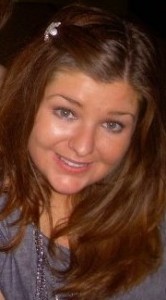 Annie Greenberg, web producer for Channel 41 Action News, spoke to UMKC students on Oct. 25 about utilizing social media networks, such as Facebook and Twitter, for both journalism and career development.
"Social media is half marketing and half journalism," Greenberg said.
At 24 years old, Greenberg has an impressive résumé. One week after graduating from high school in south Florida, Greenberg took an internship at the Navajo Times, which later turned into a full-time job.
After the internship, she worked at the South Florida Sun-Sentinel before deciding to attend the University of Missouri- Columbia, where she received a bachelor's degree.
In college, Greenberg added The Associated Press – Miami, the Columbia Business Times, and The Kansas City Star to her list of experiences.
"I turned that business reporting internship at The Star into a new social media coordinator position," she said. "I ran social media for both The Star and Ink Magazine for seven months, before accepting the web producer position at 41 Action News."
Greenberg later discussed how students could use social networks to create an appealing online persona, which could attract internship opportunities and career recruiters from many businesses.
Q&A with Annie Greenberg
Q:How true is it that employers check out potential employees' Facebook pages, blogs and other social media sites?
It's commonplace for both employers and universities to check out applicants' pages on social media as part of the hiring and/or admissions process. You can't be too cautious. There are ways around privacy settings.
Q:What is your advice concerning the balance of being both professionally attractive while still allowing your personality to shine through on Facebook?
Social media is about being social. You don't want to sound too canned or rigid — people can see right through that. Being professional and personable isn't mutually exclusive.
Remember, you don't need to drop f-bombs to show personality. It's great to share your thoughts on the hot topics of the moment – and Twitter was made for brevity and wit – but be sure to consider your audience.
If you're a journalist and want to market yourself to potential employers, you'll want to adhere to ethics and objectivity. If you want to be a teacher, you probably want to keep rants about children to a minimum.
Q:How can students utilize their social networks to be their own PR people and one-person marketing teams?
In this tough job market, it's important to find out what niche you fill doing something no one else can, and play to that unique strength.
Once you figure out what will set you apart from the other applicants out there, promote that quality everywhere from your résumé to your cover letter to social networks and in any interviews you have.
Q:As students, what are the best ways for us to market ourselves online?
I would suggest setting up Facebook, Twitter and Linkedin accounts. Be sure to strategically share [topics] that correlate with your specific interests. Depending on your career goals, Google+ and Instagram can help, too.
Q:Are there any social networks that you think aren't relevant for personal marketing
Every social medium is unique. I would discourage people from creating profiles on every social media platform just for the sake of having one.
It's better to rock one or two that make sense for you than to try to do everything.
Be smart about it. Posting a couple public updates about your interests on Facebook each week will do more for you than clumsily trying to juggle all the platforms out there. I think it's more beneficial to be proficient at a few things than appear inept at several.
Q:What's the take-home message for students and social networking?
There are a lot of people positioning themselves as social media experts out there, and a ton of literature about the right way to do things. The best advice I have for you is don't over-think it.
Social media should be fun, not work. Everyone makes mistakes and gaffes now and again; it happens. If you mess up, own it. Have a conversation about it with friends, users and followers before you delete something. Social networking should be about having a two-way conversation and learning new things along the way.