Computing and Engineering professor researches gigabit application technology and programmable virtual networks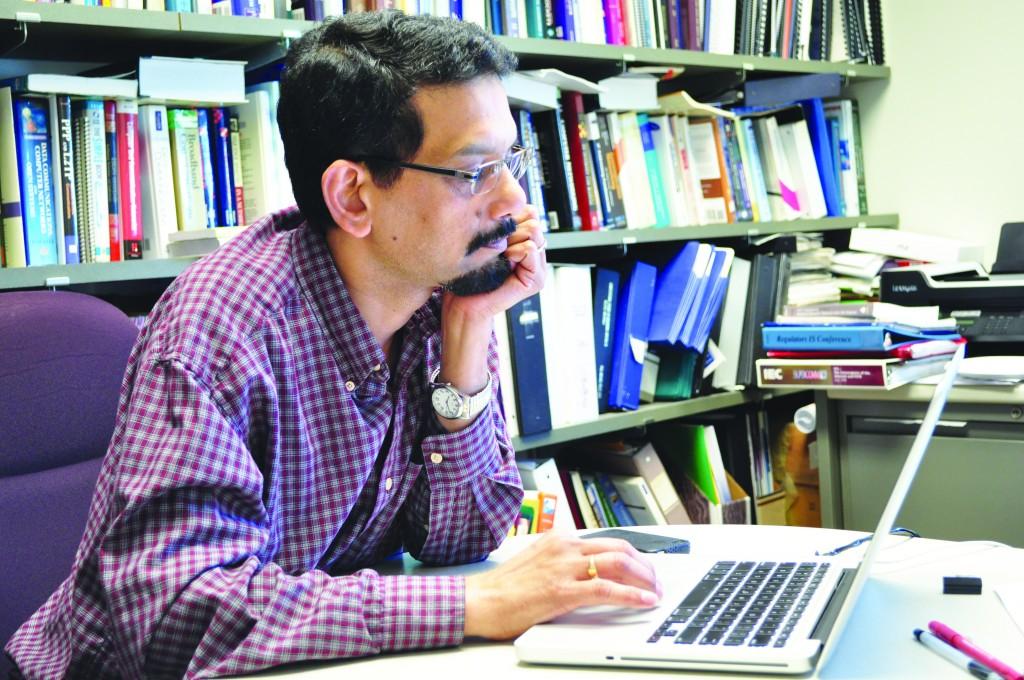 Dr. Deep Medhi has grown up with the Internet.
His early access to Internet was through dial-up at home in the mid 1980's using a 300-bps teletype terminal that didn't have a monitor.
In 1985, he took a graduate-level topics course that discussed computer networks. He had no idea that the same material would be covered in introductory-level undergraduate courses two decades later.
"Half of it went over my head [at the time], but part of my work later was on optimization algorithms and parallel algorithms over a network,"  Medhi said.
In the early '80s, the Internet consisted of a few small networks linked together, mostly in academic and research settings- local "intranet" networks by today's standards. Emails consisted of basic text file transfers.
"I'm probably one of the oldest email users on campus," Medhi said. He first started using email in 1984 as a graduate student at the University of Wisconsin-Madison.
He recalled working on his doctoral thesis, which he completed in 1987. At 264 kilobytes, it took several minutes for the file to transfer.
There was no such thing as a "search engine" or an "email attachment," and the highest volume data transfers consisted of compressed TAR and Postscript files, which first needed to be converted to a text file to be sent by email.
Companies like Microsoft and Apple were a shell of the corporate giants they have become.
After a brief career working on call routing in telephone networks at Bell Laboratories, Medhi joined UMKC in 1989 and began teaching Internet discourses in the early '90s.
Now a Curator's Professor of Computer Science and Electrical Engineering, Medhi's research is part of a global, multi-site virtual laboratory that explores computer networks of the future.
Known as GENI (Global Environment for Network Innovations), the project is sponsored by the National Science Foundation and administered by Raytheon's BBN Technologies.
The massive undertaking  coordinates dozens of studies conducted by researchers from across the globe.
Medhi is a member of the Great Plains Environment for Network Innovations (GpENI), a collaboration between UMKC, Kansas State University, the University of Kansas and the University of Nebraska- Lincoln.
GpENI uses a three year, $462,500 grant from the National Science Foundation to create programmable networks.
Medhi said that a 30-year old protocol is still the foundation for the Internet and other computer networks.
He considers such networks the third breakthrough in a series of revolutions in electronic communication that began with the invention of the telegraph and telephone in the 1800s.
"We have to start thinking about a fourth mode, a new paradigm for communication," Medhi said.
From a lab on the fourth floor of Flarsheim Hall, Medhi and his team have begun work on a programmable virtualized network that has been accessed from across the globe.
Medhi said loading a web page could be compared to a convoy of cars going through a series of traffic lights, each representing a router. This causes data files to be delayed.
Routers in the future would need a new paradigm, sort of like switching traffic lights without increasing delay, so that users do not perceive delay when web pages are loaded or while watching videos.
Medhi's work involves network virtualization, the use of certain remotely-accessible nodes (servers) which could be used as routers(software) to create an experimental network for researchers.
GpENI and other projects under the GENI umbrella seek to improve user experience through customizable solutions for network virtualization.
By virtualizing networks, the need for multiple stoplights (routers) is eliminated.
"It's like driving on a multi-lane highway instead of a neighborhood street," Medhi said. "[This] is a way to dynamically allocate traffic. Why can't there be different network models for people to choose from?"
Virtualized networks can be customized for use by households, businesses and other organizations, such as colleges and universities.
The primary limitation is the amount of work required to maintain a customized virtual network..
"Virtual networks won't be  very costly, but they require a lot of TLC [tender, loving care]," Medhi said.
GiDE and virtual orchestra performances
Medhi has teamed up with two  other Curator's Professors at UMKC to develop a prospective application that will use gigabit technology to facilitate real-time virtual orchestra performance.
Medhi and SCE professor Dr. Baek-Young Choi are working together with Curators' Professors Drs. Paul Rudy and James Mobberley of the Conservatory of Music and Dance to develop the technology for GiDE.
Short for "Gigabit Distributed orchEstra," GiDE seeks to enable musicians from remote locations to participate in an orchestra performance. High-quality audio and video streams would allow musicians to play together and communicate with the conductor in real-time.
The performance could be streamed worldwide, with the appearance that the orchestra is playing together at the same venue.
Both GENI and Medhi's research on GiDE are also a part of U.S. Ignite, a national public-private partnership that was created in June 2012 by an executive order from President Barack Obama.
U.S. Ignite aims to develop new real-time applications that will take advantage of gigabit networks, which are capable of running up to 100 times faster than conventional broadband Internet connections.
Latency, the lag created by slow network connections, is an obstacle to the commercial release of such applications and technology.
However, as network bandwidth continue to increase, customizable networks and gigabit applications like GiDE will become more commonplace.
After witnessing more than 30 years of computer innovations, Medhi sees change as something to be embraced.
Both GiDE and GpENI could have a considerable impact on education.
"We can't think of education as static anymore," he said. "The fundamentals are still important, but there is a short half-life for [technology]. Our role is to identify that half-life and look at the future.