Tattoo of the week: English major's tattoos represent literary love and childhood inspiration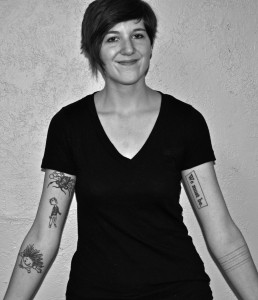 Junior English major Taylor Scholle's tattoos are inspired by her love of literature. Currently, Scholle has 12 tattoos. She was 17 when she got her first two tattoos, which include a treble clef on her right wrist and a bass clef on her left wrist.
"I was a proud band nerd," Scholle said.
Scholle's tattoos are significant for different reasons, but her Shel Silverstein tattoo is significant to her childhood. It illustrates the image of the child on the cover of Silverstein's book "Falling Up" on her right forearm.
"I've always loved reading, and I fondly remember reading lots of Shel Silverstein's poetry with my mom and brothers," Scholle said. "A majority of my tattoos are literary-themed, and I'll probably be covered in words and images from books by the time I'm old."
Scholle also has the illustration of the protagonist from Norton Juster's "The Phantom Tollbooth" on the inside of her right bicep.
"I think reading that book was the moment I knew I would always love books," she said. "I also attribute my love affair with puns to that novel."
One of Scholle's tattoos was inspired by friendship and her belief in equality.
"I got a tattoo of an equal sign on my ring finger with a friend after he experienced some pretty awful, hateful words from some close-minded chumps and felt pretty shaken up," she said. "That was a pretty neat, healing experience for everyone involved."
Most of Scholle's tattoos were done at "Sink or Swim Tattoo" by artist Thomas Hendrix. According to Scholle, he has some of the best prices in the city, and none of her tattoos has exceeded $100.
"Thomas always makes the experience comfortable and fun, so it's always a pleasure going in to get another one," she said.
Scholle's family reacted positively to her tattoos. Her mother allowed her to get her first tattoos when she was underage, and the two have gotten tattoos together.
Scholle's friends have responded similarly.
"Friends who don't have tattoos are always amazed and awed and talk about how 'brave' I am," she said. "Friends with just as many or more tattoos than me will admire a new one for a moment, show me their new and bigger one, and then we'll talk about plans for future ones."
Scholle plans to get more tattoos in the future, and said, "My only fear is that I'll run out of space."
Scholle is confident she will not grow to regret her tattoos.
"I can see my interests changing as I age, but that's part of what I like about tattoos," she said. "If at one or any point in my life something was important enough to permanently put on my body, I feel that's something I should always remember about that period in my life."
If you or someone you know has a tattoo of significance and would like to be featured in the "Tattoo of the Week" column, please contact[email protected]