ZZ TOP: Rock & Roll hall of famers storm through Kansas City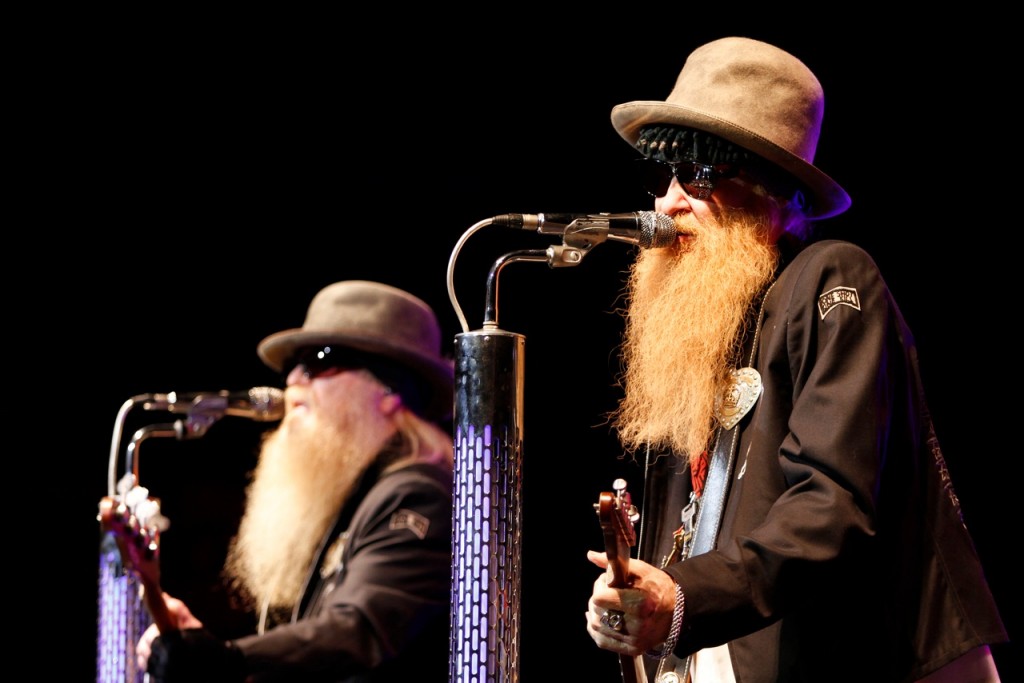 Over four decades, the three same guys, the three same chords," said Billy Gibbons after playing for a pumped up crowd, which went home happy after a spectacular show from ZZ Top last Tuesday at the Midland Theatre.
The legendary rock and roll band performed for more than 3,000 wild spectators who welcomed "that little ol' band from Texas" with a standing ovation and seemed to forget all about the theater's nice, comfortable seats for the duration of the show, which exceeded an hour and a half.
Frank Beard, who may not be as iconic but who certainly holds everything together from his seat at the back of the stage, supports the long-bearded, sunglass-wearing Gibbons and Dusty Hill. From the moment the trio took the stage, it was clear the crowd was in for a lesson in rock and roll.
A particular blend of rock, blues and boogie, ZZ Top's music is quite recognizable, both on stage and in the studio. The band is currently touring and promoting "La Futura," the group's first studio album in nine years, which was produced by the highly acclaimed Rick Rubin.
Solos from all three members on different occasions throughout the show were the highlights of the evening. When Beard took his turn, the speed and precision of his hands turned into a memorable groove that was later joined by Gibbons and Hill. Following a crowd pleasing, single-handed guitar solo, Gibbons said, "People usually ask me how I can do a solo with one hand." Then he turned his guitar backward to reveal the word "Beer."
Tickets ranged between $55 and $95, but with every song the band played, the crowd seemed reassured that the ticket price was money well spent. After a full set of old and new material, the trio left the stage only to incite the roar of audience members who lovingly demanded an encore. The band came back on stage and played three of their greatest hits, "Sharp Dressed Man," "La Grange" and "Tush."
The concert was a thrilling experience, complete with video projection and a full-fledged lightshow. But what really made the concert was the fact that no matter how long this legendary band has been around, each member still has a youthful energy and knows how to have fun.