Engaging the future through technology: A sneak peek inside the Henry W. Bloch Executive Hall for Entrepreneurship and Innovation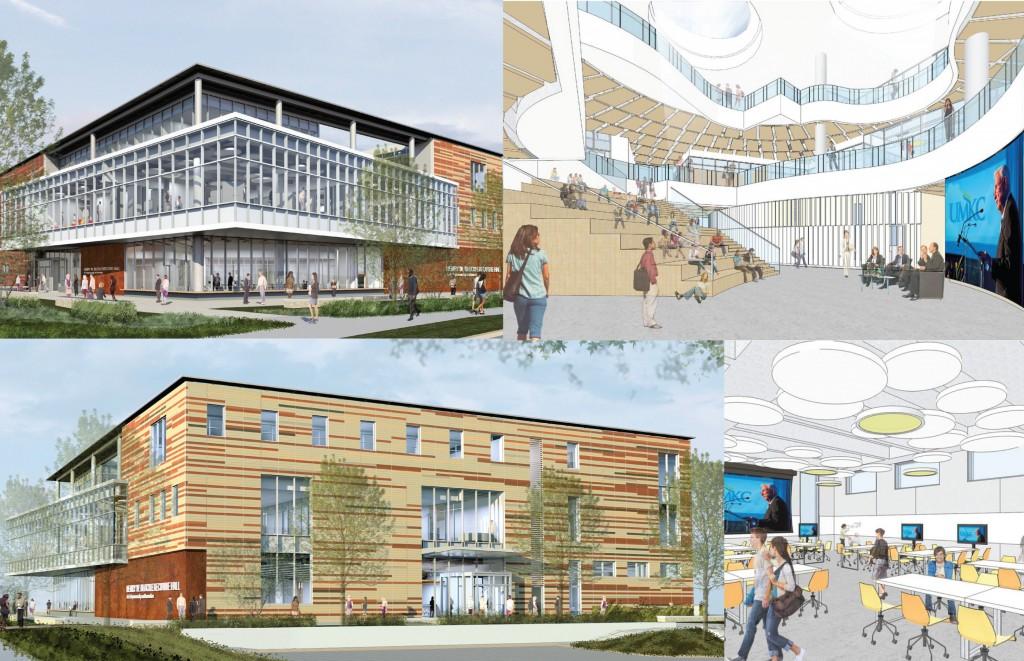 The Henry W. Bloch School of Management isn't short of bragging rights.
With esteemed faculty and nationally acclaimed accounting, entrepreneurship, nonprofit management and MBA programs, the $32 million gift that Henry W. Bloch announced last fall is icing on the cake.
The single largest gift in UMKC history, Bloch's donation is the sole funding source for one of the latest developments that will help put UMKC on the map.
The 68,000-square foot Henry W. Bloch Executive Hall for Entrepreneurship and Innovation is on schedule to open by August 2013, less than two years since the planning phase.
The contrast between the Executive Hall's bold, contemporary architecture and the historic wing of the Bloch School—the 103-year-old Oakland mansion—is symbolic of the school's forward vision.
A wall of windows facing Cherry Street will optimize natural lighting while creating synergy between the activities inside the new building and motorists and passersby.
The Executive Hall is technology-dense, designed to accommodate flexible use that will ensure its longevity.
Justin Guggenmos, director of Technology Management Services at UMKC, said that the Executive Hall will leverage an infrastructure-based digital distribution system.
This will facilitate video conferencing, distance learning, rich media capture and the ability to share content from a single source throughout the building.
The building's raised access flooring anticipates changing technology and will make it easier to install new cables and wires.
"It's a matter of easily removing floor tiles and running new cabling," Guggenmos said.
High-definition displays will be located throughout the building, including interactive digital way-finding signage at the building's two public entrances.
The second floor, which is the ground level from Cherry Street, contains a three-story open atrium with amphitheater seating and a digital video wall measuring 16 feet wide and 11 feet tall, the bottom half of which will be interactive.
This area will be used for impromptu and guest speaker sessions, as well as to display the Bloch story and informational signage when not in use for a specific event.
Classrooms
Traditional lecture spaces include two 80-seat tiered classrooms with HD displays and a 200-seat auditorium with a 44-foot-wide projection screen.
Five spaces known as "active learning classrooms" are designed for team-based collaborative learning.
These spaces are designed to accommodate multiple furniture layouts, in contrast with the bolted semicircular rows of tables and chairs typical of business school classrooms. However, active learning classrooms could also be used for traditional lectures.
Students could work in groups with their own whiteboard and digital screen, while instructors would use a centralized display.
Instructors would provide lecture material ahead of time as videos or podcasts, thus freeing up class time for group activities.
"There's a lot of research that suggests that students get more out of an active learning session than traditional lecture sessions," Guggenmos said.
Other spaces
Students will be able to connect laptops and other electronic devices to wall-mounted HD displays in any of the seminar and study rooms located throughout the building.
A finance lab will include 32 dual-monitor work stations for use by students in accounting, finance and MIS classes. Side wall monitors will stream real-time financial data, and the exterior wall facing Cherry Street will feature a stock ticker.
"It's a smaller, more intimate lab," Guggenmos said. "Students at work stations can analyze [real-time] data for class projects. Right now, there is not a purpose built space for this."
The third floor will house an innovation lab for students to work on projects.
Guggenmos described the lab as a large, open area with lots of whiteboard space and plenty of locations for students to set up work stations.
"The third floor design-led innovation lab is a mix of high-tech and low-tech solutions for brainstorming, simulation, concept design and ideation and prototyping," said Sheri Gormley, the assistant dean for strategy and planning at the Bloch School.
Sandy Bretz, a system support analyst for the Bloch School, said a prototype lab in this area will have the capability to scan 3-D objects, which will be useful for product development.
Bretz said students using the innovation lab would have late night and weekend access to work on projects.
"I've seen students camp out at other schools for several days at a time," Bretz said.
First in the region
The behavior lab, the only public space on the first level, will become the first at any regional business school.
High-resolution cameras in three interview rooms will enable researchers to record body language and facial expression. In addition, two rooms will contain one-way glass facing a central control room.
"It's about making the room as natural as possible," Guggenmos said. "This isn't cutting edge technology, but using it in a business school is fairly new."
The behavior labs will be used largely by the Research Engagement Program, which is currently using vacant classrooms and conference rooms to conduct studies.
The REP was founded last spring by Dr. Will Self, assistant professor of leadership and organizational behavior, to introduce Bloch School undergraduates to faculty research studies.
"Over 30 percent of the students who participated in the spring participated in more studies than they were required to," Self said. "It's created a new sense of vibrancy in the research culture here."
Self said the new space will give more visibility to behavioral research.
"It's unique to have the ability to build from the ground up," Self said of the Executive Hall. "I love the learning technology that's involved. Oftentimes there isn't the infrastructure in place for experiential learning."