A pouch of 'Roo history: UMKC mascot was born in Walt Disney's studio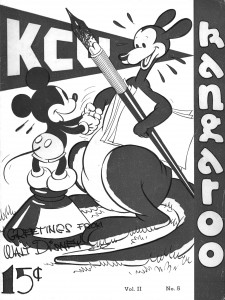 Kasey the Kangaroo won't be an endangered species even if UMKC undergoes a name change.
Kasey is a historic mascot and represents UMKC's pride and history, dating back to 1936 when  editors of the school newspaper decided it was time to pick a mascot for the debate team.
Because the University of Kansas City, the predecessor to UMKC, did not have a mascot, the kangaroo was chosen to represent the entire school.
"It has changed a lot [since the original design], but the identity is still intact," said Jessica Dickson, the assistant director of athletics.
Dickson is Kasey's keeper and is responsible for setting his schedule. She explained how Kasey has evolved.
The legendary cartoonist Walt Disney, who had a studio in Kansas City near campus at the time, created the first-ever design for Kasey the Kangaroo.
Disney had already won an Academy Award for his most famous creation, Mickey Mouse, when old friends from elementary school and UKC students at the time approached him to design the mascot.
At the same time the debate team was looking for a mascot, the Kansas City Zoo had acquired two baby kangaroos that Dickson said swiftly became the main attraction in the city.
Austin College in Sherman, Texas, and the State University of New York at Canton also share the kangaroo mascot.
"But only ours has such a rich history," Dickson said.
Dickson said Kasey's real identity is kept a secret to maintain the mystique, and the individual behind the fur coat is not allowed to speak while in character.
The current Kasey is a music major at the Conservatory of Music and Dance.
"My dad was Truman the Tiger when he studied at MU," said Kasey, a second-generation mascot who hopes to extend this family tradition.
Kasey the Kangaroo makes appearances at every home men's and women's basketball games and some of the most important men's and women's soccer matches. Kasey also attends some extracurricular events like Homecoming and fundraising events.
"It is a lot of fun to be Kasey," he said. "Every time someone has a picture taken with me, which happens a lot, I always find myself smiling inside, even if no one can see me."
The climate in Kansas City isn't ideal for kangaroos.
"It takes about 15 minutes to be completely soaked in your own sweat," Kasey said. "But all the downsides are obviously weighted out with the excitement and the thrill of pumping up the crowd."
It depends on the event if Kasey will have a hard time energizing and entertaining the crowd. Kangaroos have a more difficult time selling themselves than other school mascots.
Trying to get the students involved keeps him hopping.
"Sadly, student involvement in our sport events is weak," he said. "I wish more people would come to the games and cheer our teams because an energizing crowed energizes the team on the field or court."