HYPNOTIZED: 'Trance Lady' visits UMKC to teach hypnotic method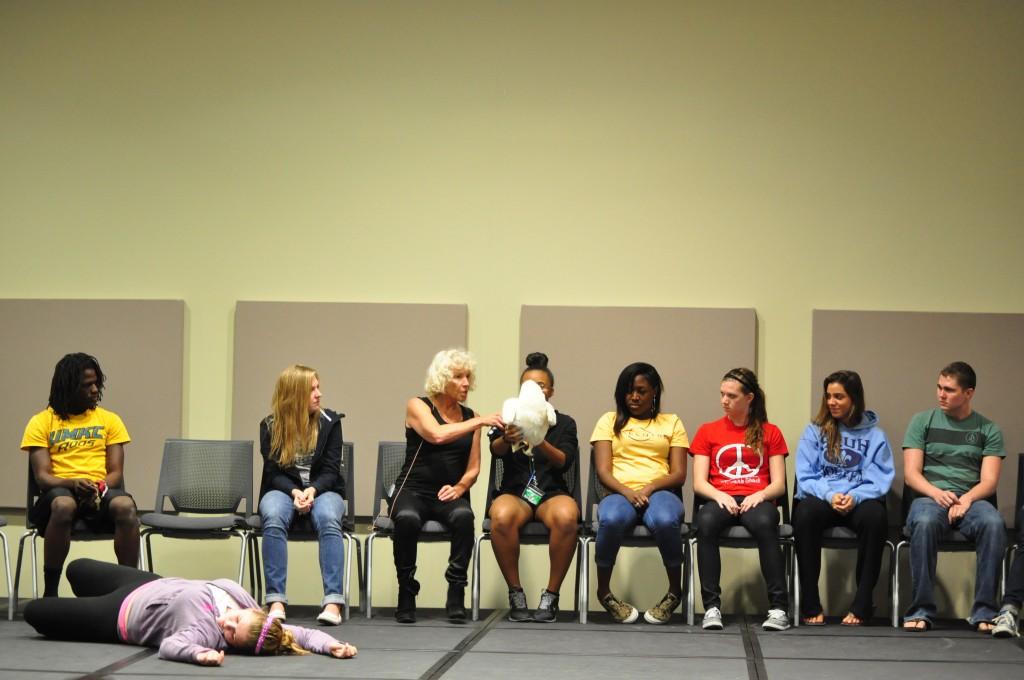 Dr. Joanna Cameron, a clinical hypnotherapist, performed as the "Trance Lady" for the second year in a row on Oct. 3 at the Student Union as part of APC's Homecoming activities. Cameron is an author, entertainer, speaker and professional therapist who bases her work around hypnotherapy. She has practiced hypnotherapy for 14 years, and was the first hypnotist to visit UMKC.
Cameron kicked off the event by engaging the audience in several introductory hypnosis exercises. In a matter of minutes, most skeptics became believers, and audience members were eager to rush to the stage for a chance to become completely hypnotized.
Cameron assured the audience she would not be able to force the hypnotized participants to do anything  morally or ethically unacceptable.
"A hypnotized person is awake and aware of what is going on," Cameron said. "In fact, they are an active participant in the hypnotic process."
Participants who were not completely submerged in what Cameron calls "the trance state" were politely asked to leave the stage. Those who were hypnotized were then instructed to do a number of silly things. For example, Cameron told members of the group they were Disney characters running for president, and they were to tell the audience who they were and why they should be elected. One participant claimed to be Tarzan and jumped around on all fours as if he were a gorilla, beating his chest and speaking in broken English.
Participants also impersonated Michael Jackson, Lady Gaga and Britney Spears, were convinced they knew how to hypnotize a plush chicken, rode an imaginary roller coaster, mimicked the movements of a plush monkey and pretended to be 7-year-olds who disliked their teachers.
Freshman Kylie Galant participated, and even cried when Cameron told her she no longer had her belly button. Galant was arguably one of the most active and entertaining participants.
Galant described slipping into hypnosis as a heavy feeling.
"It was kind of like something was pushing on me, and I was totally relaxed and floating," she said.
Galant was able to recall the majority of her actions while onstage.
"I'm a little embarrassed. I think I did the splits," she said of her impersonation of Lady Gaga.
Galant said she enjoyed the experience, and would be willing to do it again.
Though Cameron has now performed twice at UMKC, her audience is not limited to college students. She recently traveled to Germany to perform for members of the U.S. Army, and offers her services to anyone interested.
In addition to being an entertainer, Cameron has worked in several other fields. For example, she has worked with the police to help officers remember license plate numbers through hypnosis. As a therapist, Cameron uses hypnosis to help her clients with weight loss, pain, phobias, post-traumatic stress and even anesthesia for those allergic to tangible anesthetics.
Cameron's most recent project is the development of a reality TV show that will track the progress of people using her hypnotic methods.
"We'll be making changes in their lives while entertaining them at the same time," she said.
Cameron's performance was a wildly entertaining addition to UMKC's Homecoming activities, and many will look forward to another potential performance next year.
For more information about the "Trance Lady," visit Cameron's website at http://joannacameron.com/.