Hispanic Heritage Month: UMKC students reflect diversity of growing U.S. Latino population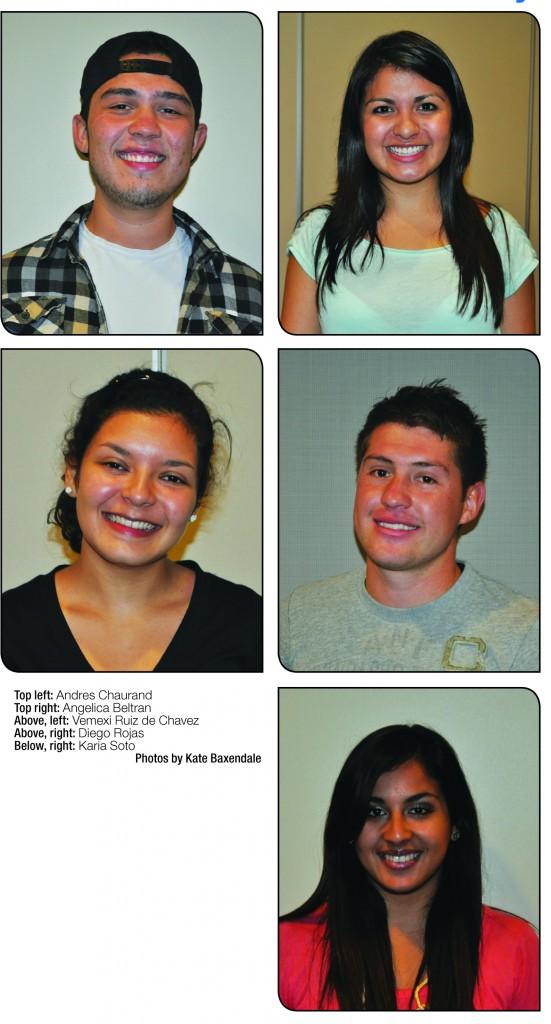 The increase in Hispanic enrollment at UMKC in recent years reflects the growing Hispanic population of the U.S.
One in six Americans is of Hispanic descent, and that proportion is on track to double by 2050.
National Hispanic Heritage Month, held annually from Sept. 15 to Oct. 15, is a growing phenomenon.
Like other groups that have come together to form a unique identity, Latinos in the U.S. often celebrate aspects of both Latin American and U.S. culture.
Even within the Hispanic community, there is a broad degree of diversity.
This is reflected in the stories and experiences of Latino students at UMKC.
Sophomore Vemexi Ruiz de Chavez is a native of Kansas City. Her smile emits a friendly and approachable vibe.
Her name is a combination of the words Venezuela and Mexico, the countries her parents are from.
"I've had about, maybe three or four people [at UMKC] ask me if I'm mixed, and I said, 'No, I'm not mixed. I'm Latin,'" Ruis de Chavez said. "I've had a lot of people ask me about my name, so that's usually how the whole Latin American thing [comes up]."
Ruiz de Chavez said she has not experienced discrimination at UMKC. She has, however, dealt with ignorance outside of UMKC.
"Because my dad is Mexican, a lot of people assume that he is an illegal immigrant," she said. "So a lot of people thought I was an illegal immigrant. I used to get a lot of jokes in high school about me having to jump the fence to get here even though I was born here. My dad did not come here illegally."
Ruiz de Chavez has traveled to both Venezuela and Mexico.
Religion and fashion are marked differences between the two countries and the U.S.
"One big thing I do notice in Mexico is Catholicism," she said. "At my grandma's house, there are pictures of the Virgin Mary of Guadalupe and crosses all over the house. They [my family] go to church every Sunday. It's the same way with my grandma in Venezuela"
Femininity is also expected of women in Venezuela.
"Women in Kansas City aren't always super dressed-up, like wearing high heels and super-tight dresses," she said. "But in Venezuela, women are always dressed up. Most of them by about 16 or 17 have had plastic surgery."
Angelica Beltran, a junior finance major, is also a  Kansas City native, but both of her parents are from the Mexican state of Chihuahua.
Beltran is also president of ALAS, the Association of Latin American Students, a group that celebrates Latino culture at UMKC.
"When I first came to UMKC, I felt that there wasn't a very high population of Latino students," Beltran said. "I know for a fact that not many Latinos do pursue the college experience, but once I became a part of ALAS, I got to know a lot more Latino students. I feel like we are really making an impact."
Last year, the group held its inaugural conference, which the group plans to hold each year.
Beltran said that because UMKC's Latino population is growing, recruiting students for ALAS hasn't been a problem.
Beltran said she hasn't personally faced discrimination, but she is familiar with other Latinos who have not been as fortunate.
"I personally have not been discriminated against, because I have lived here all my life," she said. "You can't tell that I'm Mexican. I went to a predominately white high school, and I never had any problems."
Beltran used to travel to her parents' hometown of Camargo, Chihuahua, near the Texas border every summer until she turned 15.
Drug violence has devastated the city.
"There have been a lot of killings where my parents are from because of the drug cartels," she said.
Beltran hopes to be able to return to Camargo in the near future when it is safe again.
Junior communications studies major Karia Soto moved to the U.S. from Monterrey, Nuevo León, Mexicowhen she was 9.
"I feel very honored to be bicultural," Soto said. "My experience at UMKC has been great. I feel like I can communicate with Latinos who were born here just as well as those who emigrated here. I feel like it's a big opportunity. It's cool to have both languages
and both cultures. It leaves many doors open for me."
'A fresh start'
Senior Diego Rojas, a civil engineering major, hails from the Colombian city of Medellin, Antioquia.
Rojas was a member of the UMKC soccer team during his first four years in Kansas City.
"There were a lot of Hispanic people on the team," he said. "There were guys from Colombia, Venezuela, Cuba, El Salvador. It was a good experience because I hung out with them. It was like being at home. When we were together we would always speak in Spanish."
Rojas explained how people in Kansas City assume he is from Mexico because he speaks English with a Latin American accent.
"It's going to happen, especially here," he said. "If you speak Spanish, you are from Mexico. I don't take it as discrimination, though. I mean, they don't know where I'm from. For me, every white person is from here."
Rojas moved to the U.S. when he was 14. His family decided to move to Texas after experiencing harsh times in Colombia.
"Basically my family was middle class. We moved here because we got robbed—all of us, when I was young. They knew where we were and they knew everything about us," he said. "Since we had to start from scratch, we decided what better place to start over than in America."
Rojas and his family settled in Fort Worth in 2004. Although he had offers from other schools to play soccer, he chose UMKC because he liked the environment.
Rojas said going to high school in Colombia was much different than going to school in the U.S.
"Here at UMKC, we [students] go to classrooms. In Colombia, the teachers come to you," he said. "Where I went, we didn't have air conditioning, so the windows were always open. We used a lot of fans. Where I used to live it was really hot. And with all those people in the classroom we were always really hot."
Rojas said he feels that Americans are too rushed, while Colombians take more time to enjoy life.
"I think people in the United States are always busy," he said. "They don't have time for anything. They wake up so early in the morning. People in Colombia wake up late. People in the United States don't even have time to eat. In Colombia, we have a lunch break for two hours."
'Mexico is chill'
ALAS Secretary Andres Chaurand is a junior majoring in Spanish. He is originally from Kansas City, but his parents are from Mexico. His mother is from Mexico City, but she has spent the majority of her life in the U.S.. His father is from Guadalajara, but moved to the U.S. when he was 18 and became a citizen at 45.
"I feel like the Latino community here is growing and UMKC is doing a really good job of recruiting us [Latinos]," Chaurand said. "Through organizations like ALAS and Lambda Theta Phi, I have been able to connect with a lot of other Latino students."
During his visits to Mexico, he observed some cultural differences between Mexico and the U.S. Like Rojas, Chaurand agreed that Latino culture is much more relaxed.
"I would say for our generation it's a lot more chill," he said. "Mexicans are a lot more social. 'My house is your house.' Here, when you meet people, it can be kind of awkward. In Mexico, people take you right in like it's nothing. I feel like it's a lot easier to meet people in Mexico. Everyone is a lot happier and more positive over there."