Player profile: Antoine Rozner- From Paris, France to the Paris of the Plains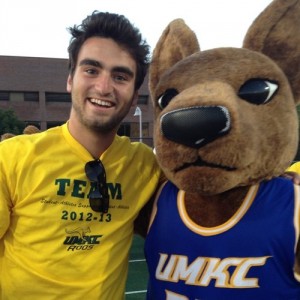 Paris native and UMKC freshman business major Antoine Rozner is the 24th best golfer in the French amateur rankings and the 700th best golfer in the world.  Rozner found himself in Kansas City when UMKC men's golf coach J.W. VanDenBorn recruited him for the team.
Rozner's successes include a 2011 3rd place finish in the Doral Publix Championship (DPC) in Miami, where he competed against players from around the world.  The DPC hosts over 680 golfers and is one of the biggest international junior golf tournaments in the U.S.  VanDenBorn was able to watch Rozner play in the DPC.
"I had a chance to see him the night before the Doral tournament and have dinner and talk," VanDenBorn said.
"I had a great feeling with [VanDenBorn]," Rozner said.  "I heard a lot of good things about UMKC so I felt good about coming here."
VanDenBorn said he has been trying to make a connection with French amateur golfers, and was finally able to do so with Rozner.
"I was able to watch him in his practice round and first round.  It was easy to see he had the tools to compete.  From then on, I aggressively recruited him.  I'm very fortunate that he chose UMKC," VanDenBorn said.
Rozner has had early success with UMKC's golf team.  At his first tournament of the season in Pawley's Island, S.C., he finished fifth individually with four under par (71-71-70), and led the team to a seventh place finish.
"My first goal is to win a lot of tournaments with the team and to play the best I can," Rozner said.
Although Rozner did not perform as well individually during the team's second and third tournaments, he helped the team to fourth and seventh place finishes overall.
Every time Rozner approaches a golf ball, he simply thinks about where he wants the ball to land.
"I'm focused on what I have to do to hit a good shot," he said.
Rozner comes from a golf family and has been golfing for over 10 years.
"My parents played a lot of golf.  I started with them," he said.
His mother, Laurence, and older brother, Olivier, also compete at the amateur level in France.
Rozner said the rules of golf are the same in France, but the level of competition is different.  He does not think the players in France are as good as players in the U.S.
"In France, you can not play well and still finish in the top 20," Rozner said.  "It's harder to finish in the top 20 here."
Rozner discovered this the hard way, averaging 72.67 per round and barely placing in the top 20 in his first tournament.
Although Rozner is golfing well at UMKC, he is unsure about his future plans after graduation: golf or business?
"I can go pro or I can go back to France.  I will see how good my golf is after UMKC and I will have a good degree," he said.
Luckily, he has three more years to decide.