Travel Corner: St. Louis vs. Kansas City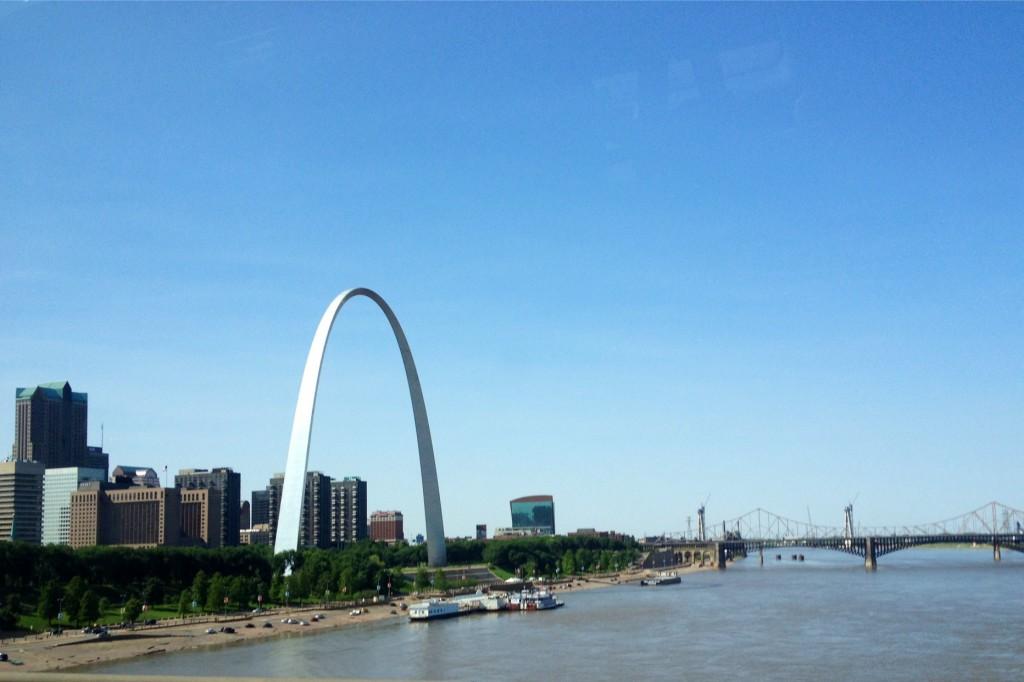 Transitioning from one major Missouri city to another wasn't strenuous.  Learning how to adapt to what Kansas City has to offer after spending 20 years in Saint Louis was a harder task.  It's been a year since trading in the Gateway to the West for the City of Fountains, but so far it hasn't been a regretful decision.  Hometown still holds a special place, but exploring the artistic tropes KC has to offer has been rewarding.
Beer
Saint Louis is famous for its Anheuser Busch-brewed products.  The brewery, located near downtown, offers free daily tours of the entire manufacturing process, including complimentary draft samples at the end of each visit.
Heritage Festival is held annually during the summer, displaying 80 different beers from different local hand-crafted breweries, providing participants with a customized quarter pint glass and conveniently located within earshot of Busch Stadium.
Budweiser is even available overseas in English pubs.
Boulevard Brewery has satisfied my taste buds countless times over the past year, offering a fuller, refreshing taste in comparison to the AB I'd come to know and love. I wouldn't say I now prefer one over the other, but appreciate that I have even more options for my drinking endeavors.
Sports
Saint Louis proudly houses three professional teams.  When lockouts aren't affecting the NHL, the Saint Louis Blues entertain on the ice at Chaifetz Arena downtown.  Snugly placed in the city's prime convention area, the Edward Jones Dome hosts NFL games for the Rams.
However, the most notable sports spectacle has many residents saying "We're a drinking town, with a baseball problem."  With unexpected triumph in the 2011 World Series, the "11 in '11" title quickly turned the Greater Saint Louis area into "Cardinal Nation."
Long-term and fair-weather fans alike even adopted a squirrel as the mascot for the surprising trudge from being 10 games out of the wildcard slot to winning the whole thing.
Kaufmann stadium serves as a good marker for when I'm nearly back from a weekend trip home, but I know I will never sport the blue colors.  I would happily attend a game since I enjoy watching baseball, but would likely choose red and white attire.
Public Transportation
Downtown Saint Louis prospers with greater access to a variety of transportation options.  The Metro serves as an inexpensive means of maneuvering to several larger areas in the metropolitan area.
The suburban areas are prone to using cars, but buses offer connected routes from county to city.
Union Station provides an Amtrak link as well as scheduled pick-up and drop-off points for Mega Bus and Greyhound charter bus services.  This fully functional facility doubles as a shopping center and nightlife hotspot.
Kansas City has well-established public transportation, also having a fully functional Union Station and a stop for Amtrak.  The convenience of the Main Street Max bus transit line is hard to ignore, especially with the built-in bus fare on my student ID. I don't exercise my options as often as I probably should, but I appreciate the possibilities.
Entertainment
Sporting events probably make up the highest percentage of entertainment outlets in Saint Louis, prompting bars, restaurants and other recreational outlets to choose locations immediately surrounding
the three major arenas downtown.
However, there are far more things to do than stop in for a drink to watch the Cards vanquish each season.
The Delmar Loop is a six-block entertainment and shopping district, with numerous restaurants and bars.  Fitz's, famous for premium root beer, displays the brewing and bottling machines behind glass windows while guests eat.
There are two concert venues along this stretch, both offering a more intimate musical experience due to smaller seating and standing room space.  Ciscero's doubles as a restaurant and has gained a reputation for staging local up-and-coming bands. The Pageant, my personal favorite in the entire city, headlines bigger bands and comedians.
City Museum is unlike any other attraction and difficult to describe. Imagine the joy of a Chuck E. Cheese at age 6, but for adults.
Three stories of tunnels, mirrors, vaults, caves, slides and endless other oddities for guests to climb, crawl and explore draw in huge crowds each weekend.  Outside, an industrial pseudo-playground called Monstrosity towers over the edge of the parking lot.  The roof nests a Ferris Wheel guests can ride for an additional charge.
I once took a roommate from Holland to Saint Louis for a weekend and this was her favorite part of the trip.
Kansas City speaks to my more artistic inclinations.  The Crossroads' First Fridays event is a pleasurable experience.  I've yet to attend any concerts at the numerous venues, but have been pleased with band names on the upcoming shows lists.  The Plaza movie theater was a sigh of relief, charging only $6 whereas back home, the cost is $10.
Westport and the Power and Light District have been huge draws since I turned 21 and always offer a pleasing experience.
The concerts and large-scale events held in the center of Power and Light don't disappoint and also offer a more personal musical encounter. This summer I was able to see pop-band Karmin and Dreamgirls' Jennifer Holiday back to back at the same event.
Attractions
After baseball, The Arch is the main identifier of Saint Louis.  The small elevators to the top are worth the impressive view of the city. However, most residents don't opt to go to The Arch when looking for something to do.  Tourists are more enthused.
The Saint Louis Zoo is one of my favorite parts of the city. For starters, it's free. Renovations have been made over the past few years to bring new exhibits and renew older ones.
This summer, it opened a sea lion observation tunnel, allowing guests to walk underneath the water and view the animals. Each exhibit is sectioned off into regions where certain clusters of species came from. For example, River's Edge houses two breeds of elephants, hippos, mongooses and others.
Neighboring the zoo, The Muny is an outdoor theater venue, featuring musical theater performances while on tour.  The other featured theater is The Fabulous Fox Theatre, which not only programs for Broadway musicals, but concerts as well. One year I was in the 10th row to see Lady Gaga, and the next year I was in front row balcony viewing "Wicked."
Kansas City doesn't foster as big an attraction as The Arch, but the Liberty Memorial is hard to miss when venturing downtown.
The Kauffman Center is a beautiful building inside and out. Not only have I attended shows there, but I was fortunate enough to perform on the Helzberg Hall stage in spring 2012 with the UMKC concert choir, an experience I wouldn't have been afforded anywhere else.
Moving to Kansas City was a refreshing opportunity to experience new things and reshape my lifestyle. Ive made friendships with incredible people, some of who also came from Saint Louis. Through networking, I've earned a reputation as a leader, aspiring reporter and a writer. I envision continuance in Kansas City even past the time of my graduation, but am comforted to know I will always be able to call Saint Louis "home."