Tattoo of the week
Undergraduate English Council president Nick Melrose proudly displays his Irish heritage, and  has the ink to prove it.
His only tattoo is a clover with two Irish flags on either side of it, reading "Erin go Bragh" in Gaelic on his right shoulder. The phrase shows allegiance to Ireland and is often translated to "Ireland Forever."
Melrose's tattoo was inspired by his grandparents, who were originally from Ireland. "I got this tattoo because I am very proud of my Irish heritage," Melrose said.  "My gr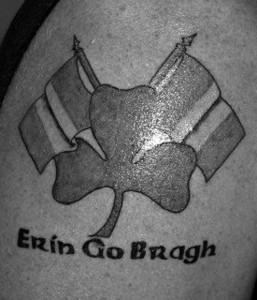 andparents are from County Cork and County Kerry and they moved to New York in the 1940's."
He received the tattoo from Irezumi Body Art in Kansas City, but did not specify the cost.
Every person's tattoo experience is different. Melrose's case  was slightly strange.  "I just remember walking in with my girlfriend at the time and there was a tall, thin guy in a white jump suit with a cane and he asked, 'What the hell are you doing here?'" Melrose said. "I knew then and there that it would be a positive life experience."
Melrose was warned  getting a tattoo could be a very painful experience, but he was not deterred, admitting, "So many of my friends said that it would really hurt, but it was one of those 'hurt-so-good' feelings."
Many  suggest  tattoos are addictive and Melrose agrees. "I really want to get another one soon, but it has to have some sort of meaning," he said.
If you or someone you know has a tattoo of significance, and you would like to be featured in the "Tattoo of the Week" column, please contact me at [email protected]