Player Profile: Jami Finnel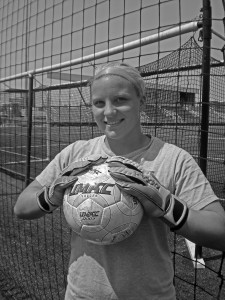 Junior psychology major Jami Finnel faced a difficult choice  after graduating from Lincoln Southwest High School, where she played basketball, volleyball and soccer. Which sport should she pursue in college?
She decided soccer was at the sport she liked and performed best.
"I started very young when I could barely walk," Said Finnel, who is from Nebraska. "I kept playing it and now after 21 years, this is what I do and what I like the most."
Soccer aside, Finnel said she enjoys cooking, spending time with friends and family and playing soccer for fun.
Finnel did not start playing soccer as a goalkeeper. "I started goalkeeping when I was 12," she said.
Coach Chris Cissel defines Finnel as a "first class goalkeeper."
At UMKC, Finnel has displayed a tough style and been a leader every game. This season, she has already won two consecutive Summit League Defensive Player of the Week awards.
"I feel good, I feel honored to be chosen player of the week for two weeks in a row, but at the same time is hard to accept it because soccer is a team sport, not an individual sport," she said. "I couldn't have done it without my teammates."
She cites as her role model Hope Solo, the U.S. National Team goalkeeper. "It inspires me to watch the U.S Women National Team play, because they are just great," Finnel said, referring to the gold medal winners at the recent London Olympics.
Finnel considers her teammates hardworking and enjoyable to watch. "Fans can expect hard work from me and all my teammates," she said. "We will always try to give them a good show."