McCaskill visit to UMKC focuses on student aid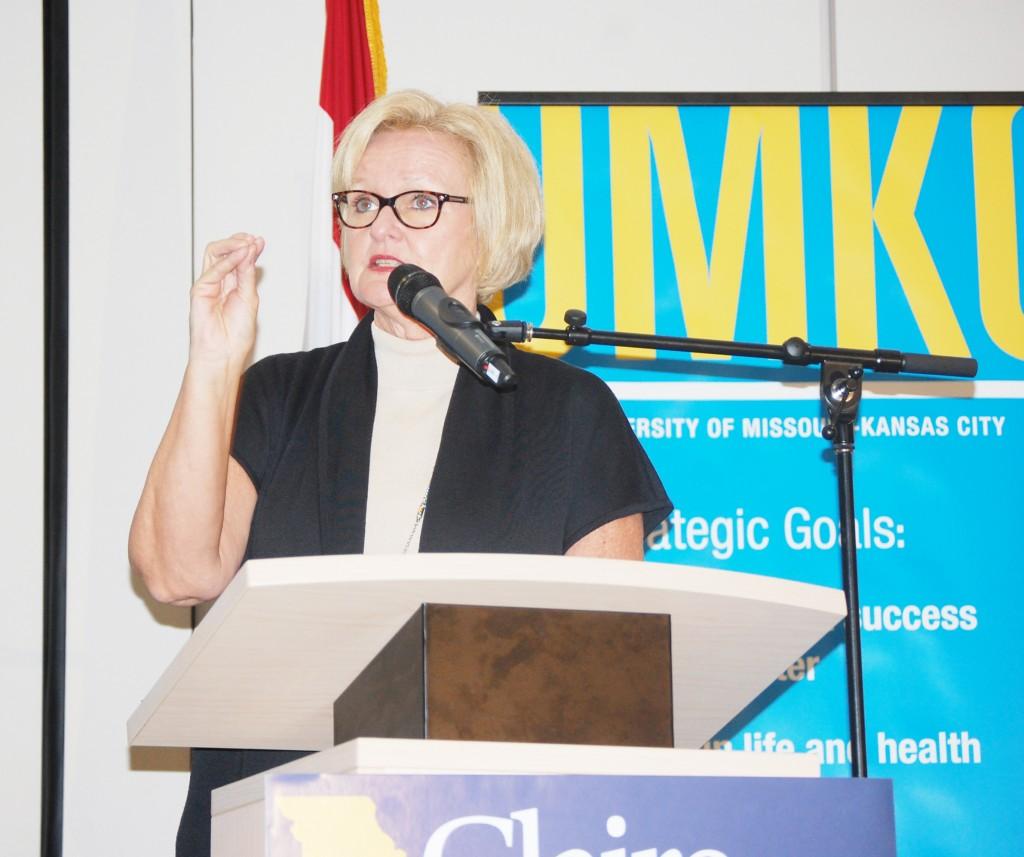 U.S. Sen. Claire McCaskill opened her Student Union visit last Thursday by asking students who attend school with the help of a Pell Grant or federally backed loan to raise their hands.
A wave of hands rose and remained in the air as McCaskill asked students if they have a job.
"Lazy college students," McCaskill sarcastically joked, referring to a stereotype that college students who receive financial aid lack initiative.
"Last year, over 300,000 Missouri students attended college with a Pell Grant or a federally backed loan," McCaskill pointed out.
The Democratic Senator said she experienced the hardship of paying back loans, and  while in college worked as a waitress and took a full course load.
"I paid my loans back," McCaskill said. "It took 15 years, and you all will do the same."
McCaskill targeted her opponent, Todd Akin, for his opposition to the Federal Direct Student Loan Program, which Akin referred to as "the equivalent of Stage III cancer of socialism."
Akin, McCaskill joked, "makes Michelle Bachmann and Rick Santorum look like hippies."
McCaskill then asked the crowd, "Who would go to college under Akin? Wealthy kids, a few athletes with talent, maybe a few academic rock stars."
McCaskill went on to emphasize the importance of America's middle class.
"College education is the only guaranteed ticket for the middle class," she said. "I need all of you to stand up and be strong. If you don't want Akin as your senator, you have 60 days to do that."
McCaskill opened the floor for questions following her speech.
McCaskill also downplayed suggestions that she holds a substantial lead over Akin, whose popularity received a setback when he claimed that women seldom became pregnant from "legitimate rape."
She pointed out that no Democratic Senator has been re-elected in Missouri since Thomas Eagleton in 1980, and that no Senator has been re-elected in the state since Kit Bond in 2004.
"Don't let anyone tell you that this election won't be close," she said. "This is Missouri."
Andrew Miller, UMKC College Democrats chair, said this the McCaskill event is the biggest that  his group has sponsored in the past few years. Although it had only three days to prepare, about 100 people showed up.
"She definitely met our expectations," Miller said. "Claire has a reputation for being a very down- to- earth politician. She calls it exactly how it is."