Occupy revisited: Romney, Ryan targets of KC99 protests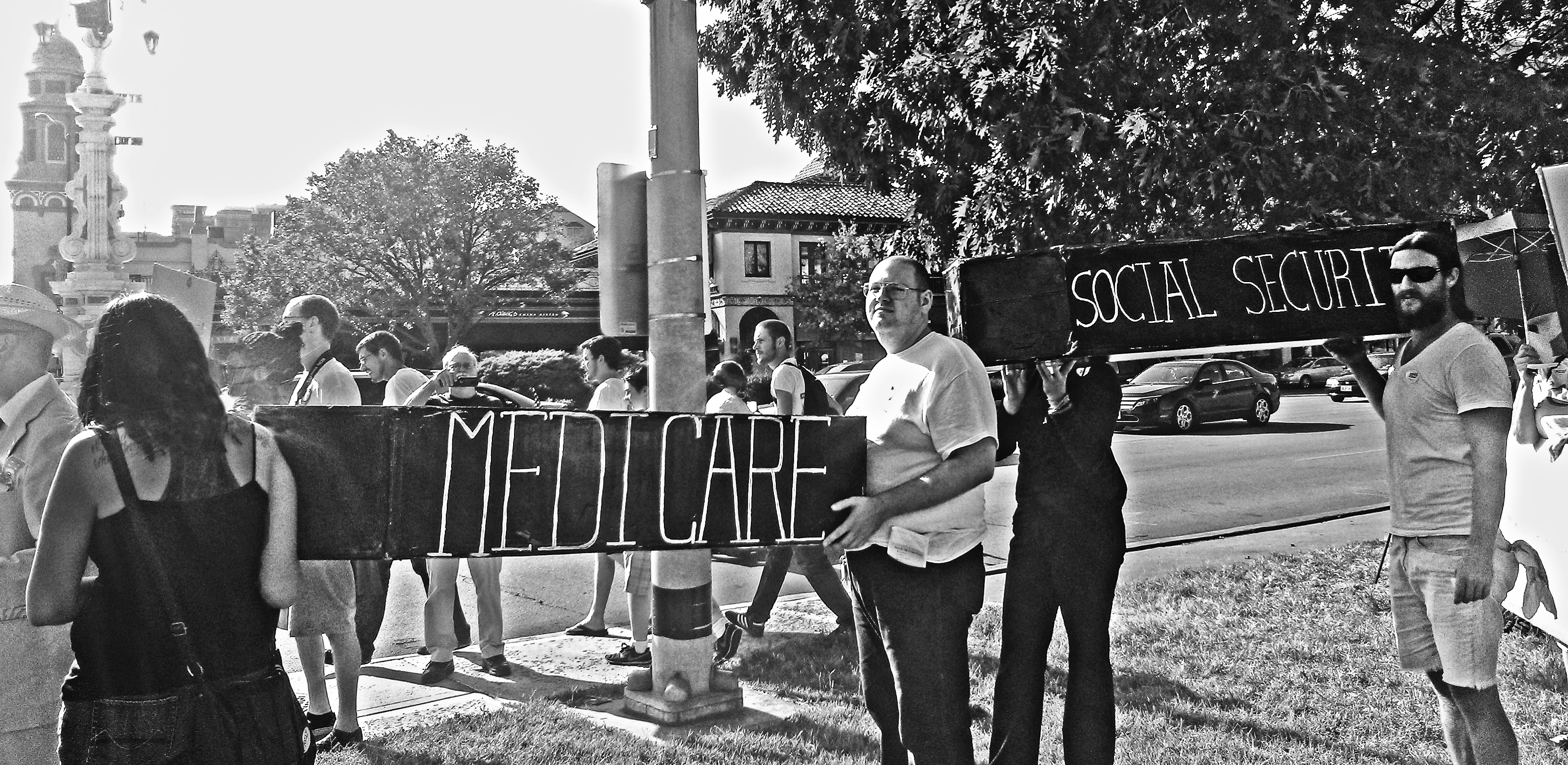 Students, working moms, low-wage employees and members of KC99 congregated on the Plaza last Thursday to protest proposed cuts to student aid, Medicare and Social Security.
KC99 emerged in June as an offshoot of local Occupy movement protests. It currently has about two dozen members, according to organizers.
Activists rallied at the J.C. Nichols fountain to sign a petition which advocated raising the current federal minimum wage of $7.25/hour to $9.80.
Protesters then marched from Emmanuel Cleaver II Blvd. and J.C. Nichols Parkway to the Penguin Court fountains at Nichols Road and Pennsylvania Street. Several carried signs criticizing Mitt Romney and Paul Ryan, who protesters believe are 99 percent-averse.
One sign, quoting Ryan, read, "I want to cut Pell grants by $50 billion over 10 years."
Some protesters dressed up in costumes; others carried caskets with the words "Social Security" and "Medicare" painted on the sides.
The name "KC99" name borrows from "We are the 99 percent" slogan, which protesters chanted as they marched past passersby on the Plaza. The name refers to the income inequality between the top one percent of wage earners and the bottom 99 percent.
Among the protesters was 21-year-old political science major Zac Mueller, who has participated in Occupy protests since last fall.
"We want to protect financial aid and Pell grants," he said. "We're sharing our vision of America, which is counter to the one percent's vision of America. Everyone should have an equal access to the American dream."
One of the youngest protesters was 13-year-old O'Neil Henry. Henry, who walked around the J.C. Nichols fountain playing "When the Saints Go Marching In" on his clarinet, was accompanied by his mother, who was recently laid off.
Brandon Hidaka, a 26-year-old KU Medical student, recently published his first article in the Journal of Affective Disorders through the Department of Dietetics and Nutrition at KU Medical Center.
"We're being medicated when we need to rise up and fight," he said, comparing some government policies to medicine that only treats symptoms.
Allison Bitzer, a 30-year-old single mother of two daughters, said she works at McDonald's while attending Penn Valley Community College full time.
She is studying to be a paramedic, and was recently honored on the Dean's List.
"Making ends meet is a constant struggle without my [Pell] grants," she said, "Mitt Romney and Paul Ryan want to take these funds away from us. They say that Pell grants don't help the truly needy. They want to cut aid for at least one million students."
Bitzer mentioned B.B. Andersen, a local developer who helped raise $1.2 million for Romney's campaign. Bitzer contrasted the affluence of the neighborhood surrounding Andersen's Ward Parkway mansion to a very different reality in her own neighborhood just minutes away.
Bitzer said she was denied food stamps because her income is merely $4 over the household limit. The crowd was most angered by the story of her boyfriend's 70 year old mother, Ella, who received only $60 a month in food stamps after being laid off from work. Initially, Ella received $240 per month in assistance, but when her disability income was raised from $650 to $655, the state cut her food stamp assistance to a quarter of the monthly amount she originally received.
Leaders of KC99 acknowledged little – if any – change will come from one-time events like the protest.
Significant change, they said, would ultimately result from consistent organized efforts, and from breaking the racial and economic barriers symbolized by the Troost divide.