It runs in the family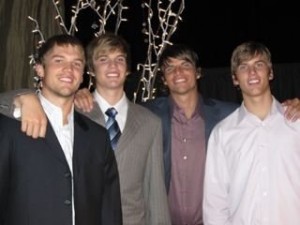 Basketball and faith unite the Korvers
Some families are known for a family trade. The Rockefellers were known for wealth and business, the Ming Dynasty for its rule in China and the Jacksons for their music. UMKC red shirt junior Kirk Korver and his family have basketball.
"My parents played Division III basketball," 6-foot-7-inch, 225-pound UMKC men's basketball team captain Kirk recalls.
His dad Kevin and his mother Laine played at Central College in Pella, Iowa, as shooting guard and small forward, respectively.
Kirk's older brothers Kyle and Kaleb played forward and guard at Creighton, and his brother Klayton was a forward at Drake. Kirk, the youngest, plays forward and center for UMKC.
Some of his uncles and cousins also played basketball.
"We used to play against our uncles," Kirk said. "Most of my cousins played in high school and some in college at some level, too."
The family is native to Pella, but moved to California so Kirk's father could attend seminary. There, Kyle became enamored with basketball by watching his uncle play.
"Kyle used to watch my brother Kris play while we lived in California," Kevin said. "He loved the Lakers and played against players like Andre Miller."
Kirk and his brothers shared a love for basketball, even when the family moved back to Pella when Kirk was two. He said the Korver household was very competitive during those years.
Competition vs. Criticism
With a family full of athletes, it was only natural that competition would occur.
"It was great," Kirk said. "I always had someone to play with; it was four of us – very competitive. We had a lot of space at the house for basketball and football."
However, reigning bragging rights belong to mother, who once scored 73 points in a single high school game, according to Kirk.
"I think Kyle," Kevin said, trying to remember who is second in the family. "I think he once scored 32."
It was Kyle who brought fame to the family when he was the 51st overall pick by the New Jersey Nets in the 2003 NBA draft. He has been traded several times during his career to the Philadelphia 76ers, the Utah Jazz and to his present team, the Chicago Bulls.
This is where the competition stops, and the criticism and comparison begin for Kirk. He often hears comments about how he does not play like his brother.
"I don't know," he said. "I have heard it a lot. I like it if it is good, like when they compare our shooting. But when it is bad, I have heard it all before. It really doesn't bother me anymore."
Kirk isn't pressured to fit his brother's mood, but instead focuses on his own identity.
"His parents understand they are all different people," UMKC men's basketball head coach Matt Brown said. "Kirk is his own person. He puts pressure on himself, not his siblings."
Kirk's indifference to the criticism and his love for Kyle shows in his NBA team preference.
"I don't really have a team," Kirk said playfully. "I guess any team Kyle plays for."
His admiration and respect for his brother allows him to receive shooting tips from sharp-shooting Kyle.
"There is a lot more to it than people think," Kirk explained. "It is not about shooting a thousand shots in every practice. It is more about the mechanics and putting up good shots. It is more technique."
For Kirk, simply spending time with his brothers is more important than basketball.
"We usually don't talk basketball," Kirk admitted. "We usually just hang out. Just watch movies. It is our time to forget about basketball."
This humility comes from another aspect which defines the Korvers – faith.
Faith vs. Fame
Basketball may run in the Korver family, but their faith in Jesus Christ runs deeper. Kirk's dad, two uncles and a grandfather are all pastors.
Kevin is senior pastor of a Presbyterian congregation, the Third Reformed Church in Pella. Laine assists with the church's prayer ministry.
While the Korvers are not reticent to share their faith, they prefer to lead by example.
"We just don't go out of our way to talk about it, just show it through actions," Kirk said.
His teammate and roommate, UMKC center Fred Chatman, concurred.
"With Kirk, he is very spiritual," Chatman said. "But he doesn't try to force anyone to do anything they don't want to do. He fits in with everybody – black, white. He treats everybody the same."
Faith is what is most important to the Korvers, even more than fame.
Kevin shared how he had developed a set of questions to ask coaches who sought to recruit Kyle. The questions became the norm for recruiting the other siblings.
The questions addressed concerns about the campus's racial diversity, academic success and the state of the coach's marriage. Kevin said the latter is because he wants his "boys around men that they can respect."
More importantly, he asked if his sons' "Christian faith could be practiced." He said some big name colleges were either eliminated by their responses or walked away on their own.
Kevin had no problem with their decisions.
"Who they [my sons] are as men is more important than winning a game," he said.
"They are a strong Christian family," Brown said. "Kirk lives by his actions. You can definitely see it."
Kirk takes his faith on the court, too. It has carried him through some injuries which had him red-shirt the 2010–11 season.
"I think it really just helps me look at things differently and just trust that God will take care of everything," he shared. "Just gives me a sense of calm when things start getting rough. And in basketball, I think it is a reminder of what an opportunity He has given me and how much of a blessing it is."
An 'all-around great person'
Kevin said he wanted his sons to know two things before leaving home: that he loved them, and that he was "launching them to make a difference in culture, to be light."
Kirk epitomizes this mandate, according to teammates.
"He is not like other celebrity kids," teammate and roommate Trinity Hall says on the outside track of Swinney Recreation Center. "He is normal. He goes out of his way to help people."
Chatman agreed, but went a little further in describing Kirk.
"He is an all-around great person," Chatman said. "He is one of my best friends. I'm glad I met him.He is a pretty good leader. Very understanding and gives good advice. He is real easy to talk to."
His teammates agree that Kirk is just as wonderful in the game, despite his lack of athleticism.
"Kirk is very good player. He is not athletic, but is a smart basketball player. He knows the game," Chatman said. I would pick him up. He plays D, takes charges, hits the floor- all the little stuff that doesn't show up in the stats."
"What he lacks in athleticism, he makes up for in heart," Hall added.
Kirk humbly admitted that his weakness is athleticism, but said he compensates for it in his shooting and other areas, which gives him the opportunity to contribute to his team.
Kirk is taking every advantage of his opportunity. In addition to serving as team captain this year, he has a 3.4 GPA, is in good health and has added some depth to his game by becoming more mobile and playing the wing.
His expectations are high for what he hopes to accomplish by the time he graduates.
"Win the Summit League and go to the NCAA tournament," he said without hesitation.
Ultimately, he would like to play in the NBA or professionally overseas. For now, he is focused on the upcoming season.
"We are going to be good," Kirk said with confidence of the 2012-13 season. "We have a tough non-conference schedule. A lot of athletic guys have been added to the team."
Spoken like a true basketball player of faith.