Popular artists cause a 'buzz' at Livestrong Stadium
96.5 The Buzz hosts memorable Buzz Beach Ball event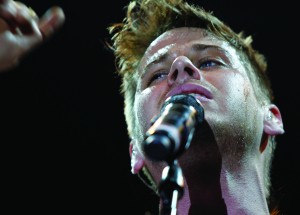 Buzz Beach Ball's 2012 concert lineup attracted thousands of fans to the Livestrong Sporting Park on Saturday, featuring The Shins, Foster the People and Sublime With Rome.
The day-long concert, hosted annually by popular Kansas City alternative radio station 96.5 The Buzz, utilized two stages to keep each artist's performance time on schedule.
While one band performed, the upcoming band set up on the opposite stage, causing sweaty fans to shove from one end of the stadium to the other. The main stage featured The Kooks, Metric and Flogging Molly during the day while The Antlers, Kimbra, The Dirty Heads and The Joy Formidable performed on the second stage. 
The Shins, Foster the People and Sublime With Rome all performed hour-long sets on the main stage during the evening.
Despite a whopping $9.50 for a bottle of Boulevard Wheat beer, there were plenty of attendees vomiting into trashcans during Flogging Molly's performance, while others crowd surfed and danced enthusiastically, thrusting fists into the air. Flogging Molly's upbeat tunes even prompted fans in the stadium seats to jump to their feet.
Kimbra, who recently released a new album, soulfully belted her tracks and delivered a live performance that sounded identical, if not better, than her studio recordings.
The Shins' new album, "Port of Morrow," helped the band to build an even larger fan base with the popular single "Simple Song." Despite the new album's success, The Shins pleased long-time fans by performing old favorites from previous years.
Metric's stage energy was only mediocre as Emily Haines moved across the stage in a trance-like state. She compensated with an energetic guitar outro before performing an acoustic version of "Gimme Sympathy," encouraging the crowd to sing along. Her live vocals were flawless.
 Foster the People's set was the most visually appealing. Performing after dark, the band utilized intricate lighting, appearing mysterious while veiled in clouds of cigarette smoke from the crowd.
Despite body aches from standing, potential sunburns and dehydration, 96.5 The Buzz's 2012 Buzz Beach Ball concert was more than worth it.