Glacé: A little scoop of heaven
Brokenhearted after the closing of marvelous gelato shop Balsano's, which was close to school on the Plaza, the search was on to find a new frosty fix. Glacé quickly more than took Balsano's place. Glacé, an ice cream shop started by Christopher Elbow, is located in the South Plaza area and close enough to campus to walk there and back. Glacé makes all the ice cream cones tasted in the past seem merely mediocre, and most other ice cream shops seem like mere mimicry of greatness. Glacé far exceeds any other ice cream shop in Kansas City.
Glace has a friendly and knowledgeable staff, who are more than willing to sugges one suggested a combination of tequila and pineapple cilantro sorbet, for those over 21.
While this mixture of flavors is unusual, the pineapple cilantro sorbet does not disappoint. The ice cream was tangy and zesty. It was unexpectedly refreshing and enjoyable.
Also delicious, the mango-passion fruit sorbet, tasted as if one is biting into a piece or fruit. Especially on a hot summer day, this would be the perfect treat to chill out with.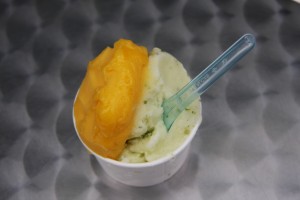 The ambience of the small building was bright, simple and clean, with both indoor and outdoor seating.
While one may be initially unsure of the flavor combinations such as the goat cheese and wildflower honey, Glacé offers free taste, so every customer can be sure to find a flavor that appeals to them, even if it is the traditional vanilla or chocolate. Even these staple flavors of given a exciting twist of their own, to put the Glacé trademark on the ice cream. Glacé offers Madagascar Vanilla, as well as both Christopher Elbow Chocolate and Christopher Elbow Spiced Chocolate, which offers the rich and velvety chocolate experience with a kick.
The salted pretzel ice cream was salty and sweet, melding the two flavors perfectly, without one overpowering the other.
Peanut Butter & Jelly was one of the most unexpected and exciting of the flavors. Glacé is the only place in town to offer this flavor, and the ice cream really does taste just like a peanut butter and jelly sandwich. The ice cream even captures the flavor of the sandwich when the jelly soaks into the bread. It is the once of a lifetime ice cream experience. The flavor is both nostalgic and tasty.
The blackberry chocolate flake flavor was unusual, with a complex mixture of flavor. The chocolate shavings were the perfect companion to the sweet blackberry. The lingering taste of carefully blended flavor is not quickly forgettable.
All of the flavors are so good it is difficult to narrow it down to just one. The hundreds of different flavor combination can meld together in any array of mouthwatering collaboration.
The French Lavender was, without a doubt, the most impressive offering. It tasted just like the delicate aroma of lavender smells, and while that sounds strange it is absolutely lovely. The French Lavender ice cream was light, yet intense.
Eating Glacé ice cream on a nice summer afternoon out on its patio was a lovely experience and one that will hopefully be repeated many times.
Glacé is truly a gastronomical delight. Their serving sizes are on the small side, and the prices are slightly more expensive than many other shops, but are very rich and filling. And remember, it is not just a small scoop of ice cream, but a small scoop of heaven waiting behind that counter.
Glacé is located on 4960 Main St. just south of the plaza library. They are open 11:30 a.m.-10 p.m. Sunday through Thursday and 11 a.m.-10:30 p.m. Friday and Saturday.