Fraternities and sororities unveil new banners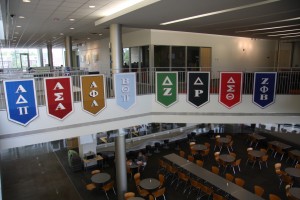 Last Monday, UMKC fraternities and sororities by unveiled new banners with the Greek letters and color of each organization. The banners will hang in the Student Union. The Office of Student Involvement helped to aid the physical presence of Greek organizations on campus.
"It's just nice to be able to promote Greek life," said OSI Assistant Director Shelby Coxon.
The event kicked off Greek Week this spring.
"It was an idea I got from another school," Coxon said. "They did something similar. It took a few months. I had to send them to everybody. Make sure they were the right color, the right shade. So it took a few months, but we finally got it rocking and rolling."
UMKC has eight fraternities and eight sororities. Five are Interfraternity Council fraternities, four are Panhellenic sororities, one is a local sorority, three are historical African American fraternities and three are historical African American sororities.
"I just think it gives them that physical presence and shows who we have," Coxon said. "We've got a large presence. There's almost 300 people involved in sororities and fraternities here, so to have this will be great."
There was a delegate from every fraternity and sorority on campus. Some organizations had many members attend, like Lambda Theta Phi, Latin Fraternity Inc.. They were the loudest as their flag was dropped, interrupting the ceremony with loud shouting and chanting of their call.
"We had a few alumni that came too and participated so that's fun," Coxon said.
Tori LoGrassa of Delta Rho Sorority undid the flag for her sorority.
"It was pretty cool," LoGrassa said. "I'm really excited that everyone can see all the chapters when they come to the union."
There was a lot of enthusiasm from participants and very good turnout, with free refreshments afterward.
"They have been all jazzed about it," Coxon said about the Greek response. "It shows our support of them as an office, because they're such a vital piece of our University."
Sororities and Fraternities make up 4.5 percent of UMKC's student population.
"I'm really excited that we have all these banners and that the office of student Involvement could do it for us," LoGrassa said.