'It happens here' Bloch School students apply marketing to fight horrors of human trafficking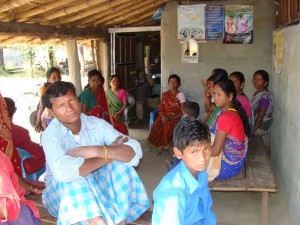 A 'Generation of Justice'
Russ Tuttle's graphic details of sexually exploited children, corpses and sweatshop labor are not typical lecture material in the Henry W. Bloch School of Management.
To incorporate cause marketing for non-profit organizations into his curriculum, Gene Brown, Ph.D., introduced Tuttle, the founder of the Stop Trafficking Project, to students in one graduate-level and two undergraduate-level marketing classes this semester.
Tuttle, a former pastor, missionaries' son and close friend of Brown's, said "human trafficking" is a term recently applied to the age-old problems of exploitation and forced slavery.
"I grew up in India from the time I was four," Tuttle said. "The term 'human trafficking' wasn't used years ago. The reality of human trafficking has been going on a long time."
The growing involvement of organized crime in what has been described as a modern-day slave trade has propelled human trafficking to the forefront of international causes.
Brown said he was shocked and saddened by Tuttle's experiences rescuing victims, and by the grueling anecdotes of victims exploited for their bodies and physical labor.
Brown is now a board member of the Stop Trafficking Project, and is working with students at UMKC and other universities to bring attention to the cause.
"The more I became involved, the more I wanted to help," Brown said. "I decided to make it a class project."
The group project in Brown's Marketing 324 classes emphasizes the use of social media in cause marketing.
"We're just using basic marketing principles to help with fundraising and awareness," Brown said. "Most of what we're doing is trying to establish an online presence."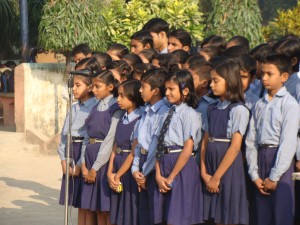 Young adults spend more time than any other demographic using social media, and, according to Tuttle and Brown, are less complacent toward inequality than the generations before them.
"One of the reasons we're getting college students involved is because this is a generation of justice that cares about humanity," Brown said.
"Generation of justice" is a term Tuttle coined for the 35-and-younger demographic.
"What we and other non-government organizations have found is that a lot of us who get fired up are 35 and under," he said. "They want to do something and get involved."
Older adults, he said, are often already involved in other charitable causes.
Some have become disillusioned by countless nonprofits soliciting donations for the same cause. Others don't see an end to a problem within reach.
"When good people do nothing, evil prevails," Tuttle said. "We need as many people as we can get to help solve the problem. No one entity can do it alone.
This is a trickle-up approach. We're counting on students to engage their parents and those older than them."
Junior Kory McEnaney, a student in Brown's class, has filed an application with Student Affairs to create a Stop Trafficking Project Ambassadors group at UMKC.
"I knew human trafficking was an issue and had heard of it before," he said. "I was never as intrigued and interested in making a difference until Russ visited our class. Russ's presentation made me realize I was one of those people that just closed my eyes to the issue and expected someone else to get involved. I was tired of sitting back and watching."
'It happens here'
Definitions and estimates of the scope of human trafficking vary.
"The challenge is measuring an invisible problem," Tuttle said.
Brown said human trafficking fits into one of three categories: slave labor, sexual exploitation or organ harvesting.
Slave labor exploits persons who work long hours for meager compensation in dangerous work environments.
Parents in impoverished countries may be told that their daughter will be given a job as a housekeeper, or that their son will be an apprentice. In reality, these children often work in brothels and sweat shops, or are sold for body organs. Sometimes they are killed.
In the U.S., predators scout out early teens who are vulnerable, many of whom come from dysfunctional homes. Predators have taken a tech-savvy approach, making the most of social media sites and online chat rooms, another reason Tuttle wants to use the web to ramp up efforts against human trafficking.
For some Americans, the problem of human trafficking seems foreign and elusive, a television newscast of impoverished victims in countries halfway across the globe.
"Sometimes I think it takes a tragedy in the community or family for an older adult to realize that it's real and happening in our own backyards," Tuttle said. "They fail to realize the intricacies of all the means a pimp will use to exploit a young girl. They are experts at threatening their victims into submission and silence."
Of the estimated 27.2 million worldwide victims of human trafficking, an estimated 100,000 to 300,000 are in the U.S.
Kansas City is not immune to the problem. In fact, its central location has made it a growing hub for trafficking, according to a five-part series published last year in the Kansas City Star.
Last year, two men were among 12 charged with bringing more than 1,000 foreign workers to the Kansas City area over a 10-year period. Many were brought to the U.S. on fake work visas and experienced substandard housing and working conditions.
In May 2007, 11 were arrested after local and federal law enforcement and immigration agents raided 16 homes, massage parlors and other businesses in Johnson County.
According to Tuttle, the area around College Boulevard and Metcalf Avenue is a hotbed of trafficking activity because of its easy highway access and abundance of hotel rooms.
A report issued last year by the National Association of Attorneys General may explain why the Kansas side of the metro area sees a disproportionate amount of sex trafficking: Kansas was one of 26 states to receive an "F," while Missouri had stiffer penalties than any other state except Texas.
A life of horror
The average age of victims coerced into sex trafficking is between 12 and 14, according to the U.S. Department of Justice.
"You can't imagine the horror to discover these girls are being raped for profit up to 30 times a day," Tuttle said. "They're sleeping in the same bed where men are raping them for profit."
Traffickers are masterminds at controlling their victims. Young girls who have been arrested for prostitution routinely are afraid to speak out against their assailants for fear of retribution.
"They live under such fear and manipulation that they do not turn on the pimps," Tuttle said. "They might kill an animal in front of her and threaten to kill her family."
Malnutrition, physical abuse, STDs and squalid living conditions take a toll on victims' health.
"The average lifespan of a child forced into sex trafficking is seven years," Tuttle said. "On average, a girl who is forced into trafficking at age 13 will die by 20."
An uphill climb
Tuttle acknowledges that the problem of human trafficking is difficult to overcome.
The U.N. Global Initiative to Fight Human Trafficking found that only one person is convicted for every 800 trafficking victims.
"The challenge is getting all of these organizations to work together," Tuttle said. "It's so hard to raise money in the non-for-profit world."
Brown's classes have helped out by researching practices for soliciting online donations.
Tuttle's efforts involve a five-step process of awareness, education, prevention, rescue and rehabilitation/restoration.
Tuttle's prevention efforts in Indian and Thai schools and orphanages are helping an estimated 5,000 youngsters, a number he suggests needs to be quadrupled.
"We've got to start somewhere," Brown said. "In the sex trafficking arena, it starts with rescuing and rehabilitation, which includes meeting needs for food and shelter. It's a huge problem and a very costly problem."
The prevention efforts focus on shutting off demand for sex trafficking and providing opportunities to individuals at risk for exploitation.
"One of the most despicable things about child sex trafficking is that the demand is so high," Brown said. "If there was not demand, then it wouldn't be a problem."
The rescue process is costly and faces a number of legal bottlenecks.
"With the dramatic need, the challenge is the tremendous resources needed," Tuttle said. "It takes $4,500 to rescue one victim from human trafficking."
The reaction from students, Brown finds, has been positive.
"Students want to know how they can help and most are shocked to know the problem is so rampant," he said.
Brown pointed to a rally against human trafficking recently held at the University of Nebraska- Lincoln. He would like to see UMCK students stage a similar event.
McEnaney said efforts to establish the Ambassadors group have been successful, and that he has received followup from the Student Government Association.
He is in the process of recruiting officers and organizing a meeting before the end of the semester. The group will focus on building a social media presence and holding public events to raise awareness of the issue.
"Once the group gets started and gets its feet on the ground, it is my goal to take a group, with Russ and Gene as well, to a national or perhaps local human trafficking event with motivational speakers," McEnaney said. "I think it would be an eye-opening experience and challenge all of us to really think about why we're in this group and encourage us to make a 110 percent difference."
For more information, visit www.stoptraffickingproject.com or http://www.facebook.com/#!/pages/The-Stop-Trafficking-Project/209258972497128.
Gene Brown can be reached at [email protected].