Midfielder is a star in the classroom and on the field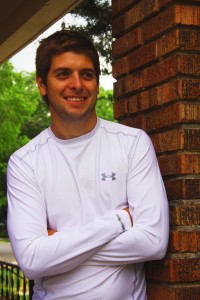 After two years at the National University of Ireland and three at UMKC, midfielder and U-News Sports Editor Luke Harman will graduate with a Bachelor of History and a minor in English writing.
Harman said his most memorable experience was a pre-season trip with the soccer team to San Francisco. The team played UC- Berkeley, and Harman enjoyed the view of Alcatraz from the training field.
"My teammates have had the biggest impact on my UMKC experience," he said. "Over the past few years, I have been fortunate enough to make friends within the team who hail from all over the world. They have given me a chance to experience new cultures, styles of humor and, unfortunately, dress sense."
His favorite course was his final capstone project.
"My topic was centered on the Tonkin Gulf incident of 1969 and my Capstone allowed me to concentrate on a subject which I was extremely interested in and allowed me to analyze the areas I wished to analyze," Harman said.
He also enjoyed meeting new people while working with the U-News.
"These are people who I would have otherwise never met around campus and U-News has provided me with some 'different' colleagues," he said.
Outside of classes and U-News, Harman was a referee for the annual intramural soccer league.
"Watching the interest in soccer grow at UMKC since my arrival in 2009 has been a great success and testament to the Athletics program and facilities here," he said.
After graduation, Harman plans to continue playing soccer at some level, which includes coaching the youth of Kansas City both educationally and on the field.
His final reflections on his UMKC experience: "I wouldn't change a thing. Regrets are for fools. All incoming freshmen should get involved as much as possible with campus events. Use the Durwood Stadium and the great facilities here and just talk to people you never usually would."