Ballin', Lambda style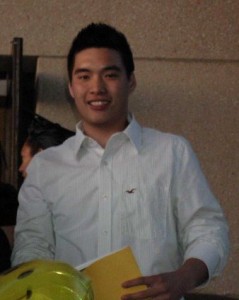 John Phan will be graduating with a bachelor's degree in chemistry. It took him five years to complete this degree.
His favorite class was Organic Chemistry taught by Dr. Kathleen Kilway.
Phan said that Kilway, "made me enjoy the class more than I would of course."
Phan's favorite memory at UMKC was joining his fraternity, Lambda Theta Phi.
His goal is to apply for and attend graduate school.
When asked who had the most impact on his UMKC experience, Phan said, "Dr. Kilway, she is a really good teacher and she makes you want to learn."
When asked if he would change anything about his time at UMKC, Phan said, "I would participate in more events and do more community service."
Phan's favorite extracurricular activity at UMKC was playing basketball at Swinney Recreation Center.
His favorite place on campus is the Lambda House. It is where he goes to "chill with the bros."