Tattoo of the Week: For the love of literature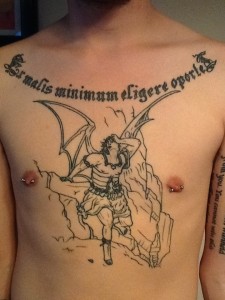 Milton's 'Paradise Lost' inspires Hunter Capps' new ink Hunter Capps expresses his passion for literature through many of his 10 tattoos, most of which coincide to form one large piece. He got his first tattoo at age 18.
Though all of his tattoos have unique significance, his most recent tattoo depicts Satan from John Milton's epic poem "Paradise Lost" on his chest. It is modeled after an illustration by French artist Gustave Doré.
"At the same time that I became highly involved in Queer Theory, I was taking a Milton class in which I was able to read the epic through a much different lens," Capps said.
"In my research, I realized that not only was the portrayal of God quite despotic, but also that Satan was the true hero of the epic because he subverts the hegemonic norms of God's discourse."
Capps perceived Satan in "Paradise Lost" to have many relatable human qualities rather than Satan's common association with villainy.
"Satan's role in the notorious Western narrative as an evildoer was something that fascinated me as I read 'Paradise Lost,'" Capps said. "When one digs a bit more into Milton's narrative, it can be seen how Satan really isn't as bad as he has been made out to be. As a queer, I empathize with Satan's struggle of being misunderstood and mislabeled as deviant simply because he does not fit into nor agree with the narrow discourse of his 'society.'"
The tattoo is currently only an outline. After it is filled in, the whole project will cost roughly $480.
Though Capps doesn't recall a memorable moment while getting his new ink, he said he "enjoys the pain of the process and each tattoo is equally important, so therefore each experience is a good one."
Capps received mixed reactions from his family and friends.
"As far as my family is concerned, they are supportive because I have a legitimate and logical understanding of what the tattoo means to me," he said. "Despite my explanation of the tattoo, I did lose a friend over it because they had such a problem with what they thought the tattoo represented. Other than that, my friends like it."
Capps plans to cover his body with tattoos someday.
Want to be featured in "Tattoo of the Week" for the upcoming summer issue of U-News? Contact Mal Hartigan at [email protected]