Blending art with information: Studio Art Open House highlights campus benefits and exhibitions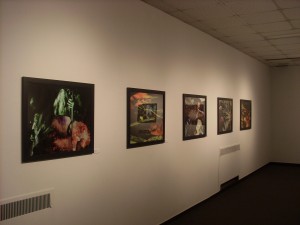 The UMKC Department of Art and Art History hosted a Studio Art Open House on Thursday evening at the Fine Arts Building.
Opened by digital imaging specialist Kati Toivanen, the event began at 1 p.m. and ran until 4 p.m. for current and potential students to enjoy the University's first open house.
Attendees checked in and were met with hospitality from Administrative Assistant Alison Lundberg, the mastermind behind the operation. Students, local residents and faculty and staff could enjoy various finger foods, refreshments and assorted cakes Feedback and survey completion were rewarded with complimentary T-shirts, which visitors Blue River Community College in Independence enjoyed.
Arts & Sciences Advising, specific department advising and Financial Aid information were available without making an appointment. Director of A&S Advising Becky Bergman and Senior Advisor Roza Nunez were available for any questions or concerns.
Art department classroom tours were also available so the attendees could view classes in session, including digital, multimedia and life-drawing art forms. Student projects and the UMKC Gallery of Art were open to display the magnificent work.
Walking campus tours were provided during the Open House. The UMKC representatives highlighted the attractiveness of the campus, community and surrounding area.
Elijah Gowin, MFA Associate Chair Associate Professor, introduced the event's central display, "Sacred Rites," the MA Thesis exhibition by graduate feature artist Sara Robbins. Robbins introduced her collection of digital photos compiled over the past three years.
"Using photoshop, craft, burning, scratching and marketing the photos, I set about completing a kind of destruction of the photos," Robbins said.
Robbins' work incorporates and compares unique subcultures.
"The goal was to create the impression of ritual and energy as a visible force in the world and to make it tangible," Robbins said.
Robbins' work is inspired by heavy metal and rock-shows. Gowin discussed Robbins' honor in receiving the Women's Council Grant in 2010 and how Robbins used the grant to attend festivals in Germany. She took some of her favorite photos on the trip.
Gowin identified Kansas City as an ideal location for current artists because of the multiple galleries, museums and artistic opportunities. The Art History program also has a strong connection with the Nelson Atkins Museum.
Information on studio art and art history can be found on the UMKC website.