MudPie: Vegan bakery and coffeehouse tastes better than it sounds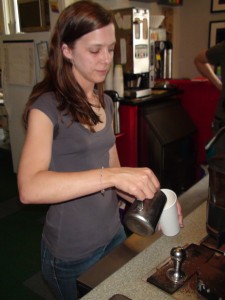 MudPie, Kansas City's only vegan bakery and coffeehouse, shouldn't be confused with the old coffee shop, Muddy's. MudPie is located in a quaint, yellow, two-story building near 39th Street. New to MudPie, the first trip was an excellent experience. The food and the coffee were wonderful.
The aura of the shop is relaxed and refreshing. There are many rooms customers can move through and sit in. All are brightly painted and the multiple windows provide natural light. There is a lovely patio where customers can relax and shoot the breeze or enjoy a sunny Saturday catching up on homework.
MudPie has a full espresso bar with as many options as most other coffee shops, but features different vegan choices. The shop offers americanos, cappuccinos, lattes etc., iced or hot. There are several syrup flavors, including coconut, and fruit-flavored syrups that most coffee shops don't carry.
While cow or goat milk is not on the menu, MudPie compensates with six different vegan options. The milks for the coffee drinks include soy milk, almond milk, coconut milk, cashew milk, hemp milk and rice milk.
The coffee's taste also holds its ground against other Kansas City coffee houses around offering vegan options. The cappuccinos are tasty and satisfying without traditional milk. An interesting combination is a cappuccino with almond milk and coconut flavoring. The two additives work together brilliantly.
Vegan cappuccinos usually lack froth, but the almond milk was actually steamy and frothy.
All of MudPie's pastries and desserts are vegan and made fresh. There are many choices, such as cookies, muffins, cupcakes, tarts, cakes and scones. The cheddar and jalapeño scone is very filling, and almost the equivalent of eating a lunch.
There are many unusual flavors and taste combinations, such as the peach-lavender and orange-crunch cupcakes. The fruit flavors are strong. There are also fruit smoothies on the menu. Their muffins are not the best option. The lemon blueberry muffin was well-flavored, but had poor consistency.
One of the pastries, called a Coconutz, was the highlight of the visit. The Coconutz mixed graham crackers, nuts, coconut and lots of chocolate. It was chewy and crunchy.
The MudPie offers a gluten free pastry option every day. The option changes from a gluten-free muffin to a gluten-free cupcake or other pastry. MudPie can also bake birthday or special celebration desserts.
They customize and personalize orders while working around food allergies and preferences.