Small steps to big business: Financial Management Association offers growth to professional futures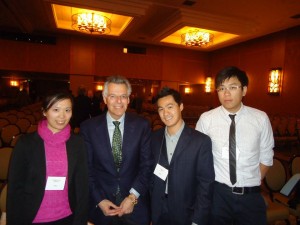 UMKC's Financial Management Association (FMA), a professional organization of financial executives, analysts, professors and students, is establishing itself successfully in national competitions.
Accomplishments include a first place overall finish at the Quiz Bowl Competition at the 2012 FMA Global Finance Leader's Conference in Chicago. The team, comprised of chapter president Xiaoxiao Tang, Matthew Kopsky and Ryan Swartzerland, tied with American University for first on a written examination round, but beat out Jacksonville and American University for overall first place in the final round.
This organization has global recognition, with members in New York, Chicago, San Francisco, Dallas, Kansas City, Hong Kong, London and Montreal.
Kansas City's chapter, as stated on its website, "Is aimed to help you broaden your business knowledge and provide as many possible network/career opportunities."
In 2011, UMKC's FMA was granted the superior chapter award, ranking it among the top five percent of chapters globally.
"Membership in FMA establishes the student as an integral part of a growing network of finance practitioners," outgoing chapter president Xiaoxiao Tang said.
The chapter's primary goal is to engage students interested in finance, banking and investments and promote interaction among those pursuing that field.
Tang said that the vision of FMA-UMKC is to "improve the local business community with innovative finance decision-making and facilitate career network for our members."
The Chicago conference included presentations by financial industry specialists and a tour of the Chicago Mercantile Exchange and Chicago Board Options Exchange.
In addition to Tang, Kopsky and Swartzerland, six other members and faculty adviser Dr. Fred Hays also attended the two-day conference.
Coming up soon is the annual UMKC FMA Banquet, which Tang said serves to "summarize the achievements we've accomplished and celebrate" and to motivate students. The banquet will feature President of the Federal Reserve Bank of Kansas City Esther George, a UMKC alumnus, as a guest speaker, at 5:30 p.m. April 13.
Prospective applicants may join by filling out an application and paying a $45 fee that covers both the national organization and UMKC chapter dues. FMA-UMKC meets every Monday from 4:30-5:30 in the Brookside Room of the Administrative Center.
Tang said a group of 20 committed members keep the organization running, and that a total of 100 students have signed up. Members enjoy free subscriptions to the Financial Management Forum and the Journal of Applied Finance, online conference access and other resources.