¡Si puedo! Association of Latin American Students hosts their first latino leadership conference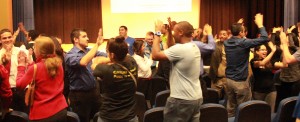 A lineup of influential speakers, knowledgeable educators, cultural performers, community members and area high school and college students converged at the Student Union last weekend for the Association of Latin American Students (ALAS) First Regional Latino Leadership Conference.
Nearly 60 local college and high school students attended the two-day conference at the Student Union Friday night featured Andres Lara, known as "The Cuban Guy," a nationally known motivational speaker, international author and CEO of "A. Success Training, Inc." He dangerously escaped Cuba at age 16, and became a millionaire at 26. He shared his secrets and advice on moving past struggles and reaching the life of one's dreams. He emphasized the need to get up and start doing things that will point you toward personal goal, which echoed the overall theme of the conference.
"One message that really impacted me was that it is okay to dream big," said Magdalena Vargas, a student who came with Mizzou's Hispanic American Leadership Organization.
"Lately, I have been debating if I am pursuing a career that is too hard to attain, and the conference helped me understand that if there is a will. there is a way. It may not be easy and it will take a lot of hard work, but by keeping my goal in my mind I will get there."
The Friday speakers were followed with a "Latin fiesta," a social dance that let students dance to Latin music and get to know their fellow attendees. "The Cuban Guy" danced and mingled with the students for a little while.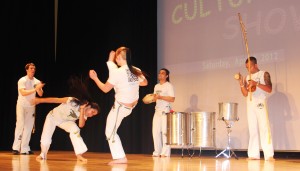 Saturday morning opened up with keynote speaker Erika Ramirez, a manager in the Human Resources department and Diversity and Inclusion Coordinator for the Federal Reserve Bank of Kansas City. She also serves on the board of directors for the Mattie Rhodes Center and the Hispanic Chamber of Commerce for Kansas City.
She shared a motivating story of continuing college despite wanting to quit because of her adversities as a minority. After she dropped out of college, she worked as a hotel housekeeper and shared her realization that made her push past her stereotypes to continue college and even get her graduate degree.
Another keynote speaker was Dr. Luis Cordoba ,who pushed his audience to move past stereotypes and degradation. He used humor and his bilingual skills to show students how to push stereotypes aside. He has worked with gangs in East Los Angeles and high-risk youth and gang members in Missouri. He currently is executive director of Students and Community Services at the Kansas City Missouri School District.
A variety of workshops showed attendees how to gain leadership, career and success skills. One workshop, held by Dr. Miguel Carranza, UMKC's director of Latino and Chicano studies, covered the impact of Latinos in the U.S. Another workshop included a panel of young Latino professionals who discussed tips on being successful in college and in a career.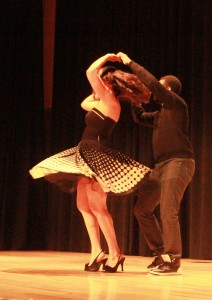 The conference also featured local performers who demonstrated various art forms throughout the Americas. The culture show consisted of acts such as Capoeira martial arts, music from Los Andes and a variety of dances — a tango, salsa, bachata, Mexican dance with authentic costume, and even a hip-hop routine.
UMKC's ALAS plans for this to be an annual conference.