Exhibit Review 'Sacred Rites'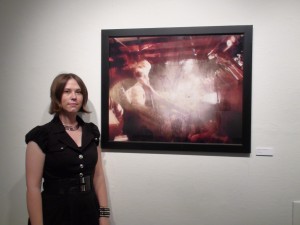 Gallery openings don't often showcase art while playing Iron Maiden and other similar artists, but the new Master Thesis Exhibition at the UMKC Art Gallery by Sara E. Robbins made an exception.
Robbins' show "Sacred Rites" explores stereotypes about the Punk Rock Scene to illustrate the subculture's significance with a new artistic medium.
Robbins describes herself as part of the metal subculture.
"I've been listening to it off and on since middle school," Robbins said.
Robbins' overlapping photos utilize unique layers and texture.
Many pieces have multiple photos, creating a vision filled with depth.
Some of the photos are burned and torn and blur the subject. These qualities provide more purpose and feeling than basic photography. The series called "Archetypes" turns this idea of rocker portraits on its head.
Robbins said that the art is about "what the atmosphere is conveying and the ritual of it."
Robbins is friends with many of the artists in the local Kansas City scene, who appear in many of her photos.
"It's more intimate because you know the person behind the photo," Robbins said.
She has been inspired by many different works and mediums but one she cited as especially important was Bruce Dickinson, a singer/songwriter who was the lead vocalist for Iron Maiden before branching out into a solo career.
Robbins mentioned his integration of romantic poets into his lyrics as artistic and educational stimulation for her.
She also looked at old photography, especially concert photography as well as the occult, such as ideas of octoplasm and the afterlife.
She started out on the project "just taking straight portraits and concert photos, what's been done before. It's been oversaturated." Her goal was to visually document metal musicians in the Kansas City area, which slowly shifted after she asked herself the questions, "Do I want to do the same thing as these concert photographers and always compare myself to them?" Robbins decided she did not. From there, "it just kind of took twists and turns and ended up here and I'm enjoying it," she said.
Robbins compared her experiences with metal concerts to a religious experience. Her conception within the gallery show is that metal music and the experience of the band playing life and the spiritual and interlinked.
"You almost feel like your soul is becoming part of something bigger," Robbins said. Her title for the exhibit "Sacred Rituals" is pulled from this ideation of a metal concert as "having a religious service in a place where you wouldn't normally have it."
Many of the works use religious or spiritual imagery or titling.
"Transmutation of the Shaman's spirit" is one of the most attention-grabbing works. It features a musician leaping, arms flung into the air. It expresses the exhilaration and freedom that detaches him from the boundaries and limits of reality.
"The Underworld's Bride" creates a euphoric and disturbing vision of haze and the crash after the elevated high of a concert.
"Underlying Inferno" expresses the passion and self-destruction of the musician. When performing a song, there is a part of the artist that is destroyed and these white-hot emotions take over and drive the artist.
The show was very unusual. It truly enhanced and eclipsed the experience and energy of being at a rock concert. The art shows a state of being. The rhythm, motion and claustrophobia of a metal performance is captured in Robbins' photography. Its subject matter is, of course, the heavy metal scene, but it instills the raw existence of metal. What was uncommon was this intricate blending of high art and metal musicians and their genre which many people dismiss as low art.
Robbins is not certain what her plans will be after graduating this spring. She plans on continuing at least a little while with work on this theme. This exhibit is a small excerpt of the work she has done with the metal subculture. She has about two years of photos. The exhibition will be on display April 5-21 in the Gallery of Art in Room 203 of the Fine Arts Building.