Tattoo of the Week: Graduate student permanently preserves artwork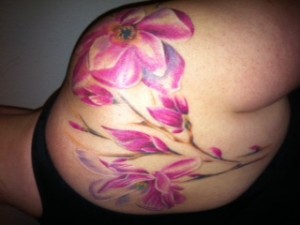 At age 39, Sandi Parker got her first tattoo over spring break as a birthday present to herself. The tattoo illustrates a magnolia branch that covers her right shoulder blade and part of her right arm.
Parker used to be a painter, which influenced her tattoo idea.
"I chose the tattoo after seeing a picture of a magnolia branch tattoo that looked like a watercolor painting," Parker said. "The magnolia flower did not have a specific significance initially, but the watercolor look did."
Parker enjoyed painting with watercolors, but was unable to salvage her old completed works.
"I lost my entire portfolio of artwork in a house fire many years ago and I primarily worked in watercolor when I painted," she said. "After seeing the original tattoo, I researched the meaning of magnolia blossoms and found that they represent benevolence, perseverance and dignity, so it worked out well. I also found that magnolias are one of the much lesser used flowers for the purposes of tattooing and that was an additional benefit of choosing it. I wanted something that was very feminine, but that was not extremely common."
Parker's tattoo artist was Alex Wolff at Irezumi Body Art in Waldo. It cost $340, but Parker said it was worth the money. She enjoyed the experience.
"The pain wasn't bad at all and if I had been lying down, I would have fallen asleep," she said. "The sound was very soothing. I look forward to getting my next tattoo and would get it today if I had the money."
Parker waited nearly 20 years for her first tattoo.
"I wanted to find the perfect image. I didn't want to end up with something I regretted and have another imperfection to
accept about my body," she said.
Parker received mixed reactions from her family.
"My son was very concerned before I got the tattoo," she said. "He kept telling me I shouldn't get it, because it might not turn out well. Once I came home with it, he loved it. My sisters have all had positive reactions as well."
Her friends reacted positively.
"Several people have mentioned it was pretty impressive that I went for a large tattoo the first time around," Parker said. "I have had several strangers stop me to talk about it when it was exposed and have mentioned that it looks like a painting, which is exactly what I wanted."