All Around KC: First Fridays at the Crossroads Arts District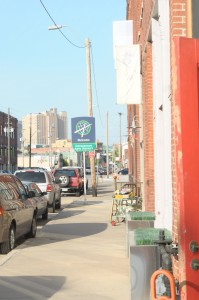 The Crossroads Arts District is more than a physical crossroads that bisects Downtown between the Power and Light District and Crown Center.
In recent years, the brick and mortar warehouse district has revitalized itself as a trendy cultural hub. Stylish lofts, dive bars, fine dining, shopping and dozens of art galleries have transformed what was once a pocket of blight into one of Kansas City's hottest neighborhoods.
The thousands who attend the district's monthly First Friday festivities and gallery openings vary from aspiring Bohemians to affluent art collectors. Other creative types and casual goers enjoying restaurant specials and street performances.
Established galleries like Leedy-Volkous Art Center (2012 Baltimore Ave.) and Kemper at the Crossroads (33 W. 19th St.) feature the work of both prominent local and national artists. In conjunction with the UMKC Women's Center's 40th anniversary, Leedy-Volkous is honoring local female artists with its exhibit "Vanguards and Visionaries: Kansas City Women in the Arts."
Others, like the Keyhole Gallery (1903 Wyandotte St.) and Blue Gallery (118 Southwest Blvd.) have a more avant-garde flavor and display the works of up-and coming local artists. The Blue Gallery's opening reception will include experimental mediums by artists John Folsom and Patricia Kochaver.
The Belger Arts Center (2100 Walnut St.) is the largest Crossroads gallery. Current exhibits include American landscape paintings and photographs in addition to ceramic sculpture and pottery.
Likewise, food offerings in the Crossroads run the gamut.
The grunge atmosphere and indulgent, mouthwatering portions at Grinder's Pizza and Grinder's West Upscale Deli (415 and 417 E. 18th St.) and Town Topic Hamburgers (2021 Broadway Blvd.) fit nicely into a college budget and are perfect for a low-key casual weekend outing.
Hamburger Mary's (101 Southwest Blvd.) is a popular hamburger restaurant and bar catered to the LGBT community. The Cashew (2000 Grand Blvd.) has a great patio and happy hour menu.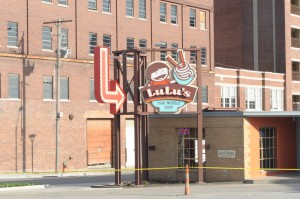 Lulu's Thai Noodle Shop (2030 Central St.) has a feng shui atmosphere with exotic décor and spicy Thai dishes. Nara (1617 Main St.) is a Japanese Robata (sushi restaurant) with a killer reverse happy hour menu.
The Freighthouse, at Baltimore Ave. and West 22nd Street, once used to house livestock shipped from nearby Union Station, is now home to three upscale restaurants: Lidia's (Italian), Grünauer (Austrian) and Fiorella's Jack Stack Barbecue. Lidia's acclaimed Pasta Trio changes daily and is perfect for a romantic date or night out on the town.
Although most college students are priced out of the Crossroads' high-end galleries and home furnishing stores, they make for a unique, one-of-a-kind window shopping experience. Retro Inferno (1500 Grand Blvd.) sells avant-garde mid-century designer furnishings. Gallup Map Co. (1733 Main St.) has an exhaustive inventory of maps, some hand-drawn and decades old.
Hammerpress (110 Southwest Blvd.) sells letterpress greeting cards and other stationery, including artsy screen prints and calendars.
Christopher Elbow Chocolates (1819 McGee St.) has been featured on Oprah and The Food Network and sells its exquisite, hand-crafted chocolates for $1 each on First Fridays (a fraction of what they normally cost).
The recent addition of the Kauffman Center for the Performing Arts (1601 Broadway Blvd.) officially signified the Crossroads' coming of age as Kansas City's cultural hub. It now serves as the home of the Kansas City Symphony, Kansas City Ballet and Lyric Opera, and has partnered with the Conservatory of Music and Dance to feature performances by both students and seasoned maestros.
Each First Friday event has a slightly different flavor as gallery exhibits change and small businesses continue to open shop. The district's Second Saturday events, which copy off First Friday's success, are also a hit, but sans the fanfare of First Fridays.
The key element the Crossroads is still missing is the daytime pedestrian activity one would expect to see in a vibrant urban arts district.
However, if the Crossroads becomes the home of UMKC's proposed downtown arts campus, the energy and excitement of First Fridays and Second Saturdays could become a 24/7 experience.