Campus development update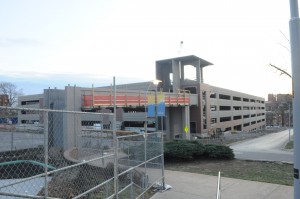 Cherry Street Parking Structure
Thanks to a mild winter, construction on the new 1,500-space Cherry Street Parking Structure is on budget and on schedule, Vice Chancellor – Administration Bob Simmons said.
The new five-level garage is expected to reach completion in July, and will open in early August.
The UMKC Police and Mail Services will relocate to Cherry Street.
Simmons said the relocation is part of a campus master plan to look at alternative uses for the 4825 Troost building where the UMKCPD is currently housed.
It will also increase response time for students living in the Oak Place Apartments or residence halls.
The new facility will include additional space for a police training room and property storage. In addition, it will serve as a check-in for people using the shower facilities.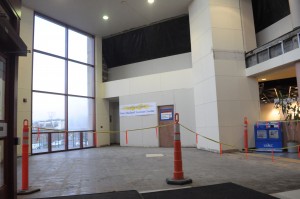 Student Success Center
All interior demolition work at the University Center is complete, and new plumbing and wiring have been installed. Simmons said all public areas of the building are now asbestos-free.
"It's moving along well," he said.
A part of UMKC's strategic plan to boost student enrollment and retention (re-enrollment) rates, the project brings together a number of student-focused resources that are currently spread out across campus.
Downtown Arts Campus
Proposed last summer as a downtown campus for the Conservatory of Music and Dance, Simmons said other campus departments have also expressed interest.
"We've adopted a broader definition for the arts campus as we've moved along," Simmons said.
A downtown arts campus would include the Kansas City Repertory Theatre, KCUR, and the Film Media, Theatre and Fine Arts departments in the College of Arts and Sciences.
The outcome of four separate studies will determine whether or not the downtown arts campus is a go, Simmons said.
The first is a program planning study conducted by Helix Architecture + Design and HGA Architects and Engineers. The program planning study, which Simmons said is nearing a first draft, will identify square footage and program needs and identify potential locations. It will also include a cost estimate.
The next steps are an economic impact study, to be conducted by the Mid-America Regional Council, and a campus life study, to be conducted with the help of Wellington "Duke" Reiter, Dean of the College of Design at Arizona State University.
Simmons said that once these three studies are complete, a fourth study will determine possible sources of funding. Simmons said that despite the UM System's solid bond rating, debt financing is not an option for this project.
Instead, the university will look at a variety of private sources and public incentives.
Simmons said more information will be made publicly available once the studies reach an anticipated conclusion this summer.