Balthazar strikes in 1-1 tie with Drury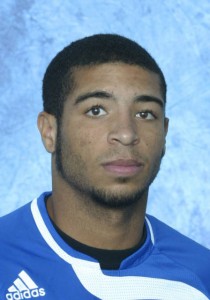 The men's soccer team opened its spring season with a 1-1 tie against the Drury Panthers in an exhibition game on Saturday afternoon at Durwood Soccer Stadium.
On the opening attack, Sophomore midfielder Zach Balthazar scored the only goal for the Roos off an assist from junior winger Mo Ramahi.
New in center midfield, Balthazar's goal gave the season a promising start.
The Roos had a 1-0 lead at half time.
Sophomore goalie Kevin Corby held his ground for the Roos.
The tempo of second half increased as the Roos executed several early passes. The Panthers later controlled the majority of possession, keeping the Roos on defense.
Miscommunication between Corby and sophomore defender Tom Stroh's backward pass caused an accidental goal for the Panthers, tying at 1-1 with less than 10 minutes remaining.
The Roos struggled to recover after the accidental goal. The Panthers attempted a goal with a header from forward Matt Hutchinson, but Corby blocked the shot.
The Blue & Gold will travel to Creighton for an exhibition game at the Omaha Cup with kickoff scheduled for 11 a.m. on April 14 in Omaha, Neb.