Roos dominate Billikens for first season win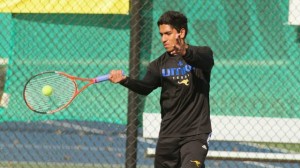 The men's tennis team (1-7) recorded its first victory of the season with a 5-2 victory over the St. Louis Billikens in St. Louison Friday. Earlier in the week, the Roos fell 7-0 at Wichita State.
UMKC 5 – Saint Louis 2
In Friday's game at the Sunset Tennis Center, the Roos were victorious in their three doubles matches, while also taking four of six in singles action.
The Roos opened by taking all three doubles matches by identical 8-4 scores to claim the doubles point. The No.1 pairing of junior Grant Fleming and sophomore Cameron Schoenhofer defeated Vuk Poledica and Drew Feder. The No.2 pairing of senior Gustavo Guerin and junior Abdulrahman Alawadhi won, as did the No.3 pairing of sophomore Tomas Patino and freshman Conner Edwards.
In singles play, Roo No.1 Fleming won 6-7, 6-4, 6-2 over Bobby Kidera. The No. 2 Patino easily defeated Poledica in straight sets 6-3, 6-0. At No. 3, Guerin defeated Yehia El Sallaly 6-4, 6-2.
Wichita State 7 – UMKC 0
On Wednesday evening, the Roos were dominated by Wichita State, losing all three doubles matches and all six singles matches at the Genesis Health Club in Wichita, Kan.
The No.1 pairing of Fleming and Schoenhofer lost 2-8 against Matheus Pereira and David Cavalcanti. The No. 2 Roo pairing of Guerin and Alawadhi lost 4-8.
In singles, the Roos were more competitive. At No.1, Fleming lost 5-7, 1-6 to Periera, while Patino lost 3-6, 4-6 to Cavalcanti at No.2.
At No.6, Edwards also lost 3-6, 6-4, 6-10 to Kester Black.
The Blue & Gold will be back in action on Mar. 12 when they host Abilene Christian at the Plaza Tennis Center in Kansas City.