Roos lose Summit League Championship game in overtime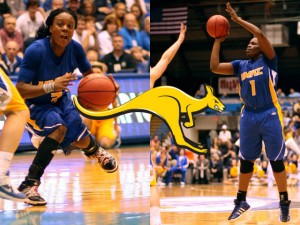 The women's basketball team lost 78-77in overtime against South Dakota State in the 2012 Summit League Championship Final on Tuesday in Sioux Falls, S.D.
After defeating the Western Illinois Leathernecks the previous afternoon 71-56, the Roos (22-11, 11-7 in Summit League play) faced the South Dakota State Jackrabbits (24-8, 16-2 in Summit League play) in front of a large home crowd of 6,300 in the Sioux Falls Arena.
Senior Dayon Hall-Jones led the Roos in her last college game with 27 points, and junior Kim Nezianya contributed 17 points and 12 rebounds for her eighth double-double this season. Sophomore Eilise O'Connor scored 11 points, grabbed eight rebounds, and added three assists and three steals.
After South Dakota State sank two free throws with seven seconds left in overtime, the Roos trailed by one point and Hall-Jones dribbled the length of the floor before putting up a runner that bounced off the front of the rim.
The Roos out-rebounded the Jackrabbits 46-37, and outscored them 17-5 on second-chance points.
After the loss, Coach Candace Whitaker was praised the team's effort, dedication and talent.
"We played well, fought hard, just the last couple of plays didn't go our way," Whitaker said.
Whitaker also her team's composure in an intimidating environment. Her team, she said, "effectively dealt with the pressure and silenced the crowd."
Hall-Jones went on a scoring stretch during the second half and in overtime, scoring 19 of 26 Roo points.
After the game, she said she wanted to "do whatever it took to keep us in the game.
The ball didn't go in the hole, and that's the end of the story."
Whitaker praised Hall-Jones' performance during her time at UMKC. "She bleeds UMKC," Whitaker said.
Added Nezianya: "It hurts, it hurts to lose any time, especially since we've worked so hard to get here."Experience and passion were key to our success this season, we just wanted to win."
The Blue & Gold will wait to hear from the Women's National Invitational Tournament or the Women's Basketball Invitational to see whether their season continues.