A playwright's perspective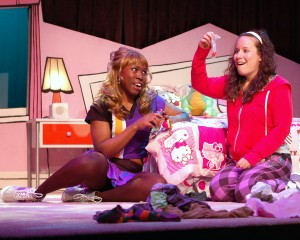 Breakthrough playwright Lia Romeo discusses her creative career
Lia Romeo's play "Hungry" recently opened for its world premiere at the Unicorn Theatre, but she isn't taking a break. Romeo is writing her first fiction novel, which will be released next year.
Entitled "Dating the Devil," Romeo describes it as "women's fiction, chick lit I guess, but with a twist."
After receiving her B.A. from Princeton University and her Master of Fine Arts in playwriting from Rutgers, Romeo's plays gained exposure in 2010. Acquiring success and welldeserved exposure, she momentarily switched focus to write novels.
Romeo admits with novels, "You have more freedom with what you can do."
Romeo and her brother Nick, a journalist and fiction writer, co-wrote a humorous book called "11,002 Things to be Miserable About," published by Abrams Image in 2009.
"It was a lot of fun, actually," Romeo said about co-writing.
The two quickly got a literary agent and publisher because of the book's unique idea, which had a surprisingly simple process.
"We would just get together and make lists of things to be miserable about, for like six or eight hours, which was maybe not the most enjoyable way to spend our time, but it's nice that we could work on a project together," Romeo said.
Romeo's play "Green Whales" had its world premiere at the Unicorn Theatre in 2010. The story follows a 38-year-old philosophy professor who suffers from Turner's Syndrome, a genetic disorder that causes her to look like a teenager.
"I love working with the Unicorn," Romeo said.
"I love that they do world premieres of these brand new plays that I've never seen onstage before."
According to Romeo, she wanted to pursue writing since the age of seven. During high school and college, she began to specifically focus on playwriting.
"I started focusing on playwriting because I just love the audience feedback," Romeo said.
Her plays have received many honors. Romeo was a finalist at the O'Neill National Playwrights' Conference, the HotCity Theatre New Play Festival and the Centre Stage New Play Festival.
Her short play, "YogSothoth" was a finalist for the Heideman Award. Romeo was the National New Play Network's Emerging Playwright-in-Residence at Playwrights Theatre of New Jersey in 2008-09.
"The thing I really love about working for theatre is that it is a collaborative enterprise," Romeo said. "I love being in the theatre with the audience reacting to it and getting their feedback."
She has also worked as a P.R. account executive, a receptionist and a Subway sandwich artist.When she isn't creatively writing, she creates standardized test questions. Romeo said she is often inspired to write by surrounding situations.
"The way that my mind works, I think I tend to sort of put twists on situations," Romeo said.
"Okay, this is this way but wouldn't it be funny or wouldn't it be weird or interesting if it was like this and just warp or twist things or tweak them in a way that is different."
Romeo is not a writer with a message. She finds her themes and personal insights while writing.
"I think a lot of times themes emerge through the process of writing about something and it's actually interesting because I won't necessarily know that I'm thinking about or preoccupied with a particular issue until I'm writing about it," Romeo said. "It's kind of a window into the subconscious."
Her newest play, "Hungry," is her strangest play to date, thanks to its unusual plot and use of a minotaur as a character.
"I think it's the weirdest play I've written," Romeo said. "It's a crazy ride."
After seeing the premiere of "Hungry," Romeo was enthusiastic about the performance's success.
"It's funny and they do all this fun stuff," Romeo said. "There's all this physicality in it that I'd written in the stage directions but you don't realize how it's going to play until you see it on stage. It's really fun. It's really crazy."
She describes the show as dealing with certain family issues, such as "the ways that our parents impact us and change us," which she reiterated was uncharacteristic of her past work.
"I think in general it's dealing with this question of impulse control, whether it is better to really control our impulses in a very strict way or give our impulses free rein or something in between," Romeo said. "[It's about] what happens when we put too many constraints on ourselves."