Humor in the eye of the ticket holder: Comedian Kevin Hart stirs up campus-wide debate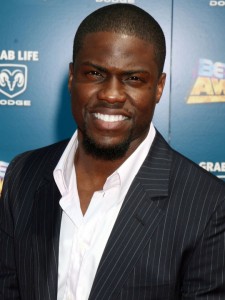 When comedian Kevin Hart brings his leg of the "Let Me Explain" tour to UMKC on March 8, he may literally have some explaining to do. Ever since it was confirmed by the Activities and Program Council (APC) that Hart would be the spring performer, there has been controversy among students.
The biggest trigger seems to be amongst individuals in the LGBTQIA community.
The revelation that there was questionably homophobic content in Hart's material was first brought to the attention of Queer Alliance (QA) President Sarina Smith shortly after APC made the announcement.
"I was accosted about not doing anything about it from someone in QA and it was pointed out to me by an adviser in the same morning," Smith said.
The material in question is a segment by Hart referring to how he handled his son's "first gay moment." Hart goes on to describe a birthday party that ended with him pushing down two small boys, yelling "Stop, that's gay!" because they were "grinding" on each other. Hart added the disclaimer that he is not homophobic, but this isn't enough to euphemize the content to that the individuals who found it offensive.
While this seems to affect many individuals within QA and the LGBTQIA community, there is still some debate amongst its members. Cornita Robinson identifies as a lesbian, but said it takes a lot to offend her. She is not personally at odds with Hart's performance and plans to attend the show because she enjoys his work as a comedian. Her biggest concern with the recent opinions is that she wishes they were expressed at the appropriate place and time.
"We cannot complain about our needs and voice not being met or heard if we do not take the initiative to state it before it happens or when it happens," Robinson said.
Robinson also wanted to make it known that anyone is eligible to attend the APC meetings where these decisions are made.
Robinson doesn't feel it is the responsibility of APC or the Office of Student Involvement (OSI) to filter content that could potentially be considered offensive.
However, a consensus between Smith and Robinson is that the idea that whether or not a student plans to attend Hart's performance, they're essentially already paying for his appearance through student fees. The APC is allotted a $100,000 budget to bring in a popular performer for the spring performance, which is fostered by tuition costs.
OSI was contacted to make a statement on the situation and clarify the decision-making process, but did not respond. "If our student funds were spent to support and bring the Westboro Baptist Church to our campus I would be quick to object to it and petition to it," Robinson said. She stands by her opinion emphasizes that it is based on her own voice "as a student, nothing more and nothing less," regardless of her inclusion in numerous organizations on campus.
The message Smith would like to give is that, while she can't speak for everyone in the LGBTQIA community, she views bringing Hart to campus as an addition to the accumulating number of instances where she feels UMKC has fallen short of its gay-friendly reputation. She listed the construction of Chick-Fil-A, her own personal discomfort of walking around campus as an open lesbian and the lessthan-ideal location of the Rainbow Lounge as instances where she feels the community is being stifled. Her action of choice was to have a personal meeting followed up with a public discussion with OSI's LaShaundra Randolph.
In the open discussion on Feb. 17 during QA's Pink Friday event, it was noted that the controversial joke had been used two years ago and Hart refrained from using it since. This changed some perspectives, but others were still skeptical.
Freedom of speech has many loopholes, and the Hart controversy seems to have resurfaced this long-standing debate. A proposed resolution for those offended by Hart's words simply comes down to a written, formal apology. Others feel this resolution would require Hart to notate apologies to any marginalized group that has been offended by his work. This may cause students to become more involved in this selection process in the future and perhaps reconsider what they find humorous.